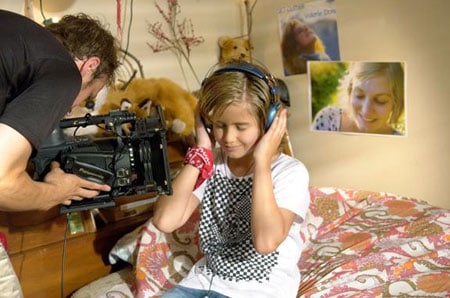 Robbie Daw presents a weekly pop music update here on Towleroad! Robbie runs his own site called Chart Rigger.
The U.S. will get a rare glimpse of Sally Shapiro, Swede pop's own version of J.T. Leroy, in the coming days…sort of. "Sally Shapiro," an alias for producer Johan Agebjörn and the elusive blonde female vocalist that fronts the act, will be appearing at New York's Mercury Lounge Friday night and the Windy City's Sonotheque on Monday.
If you've not checked out Sally Shapiro, her/their album Disco Romance got a stateside release last fall, and it's the finest collection of non-Italian/German/Spanish, '80s-sounding Italo disco since the Pet Shop Boys' early B-sides (collected on their own 1995 compilation, Alternative). Additionally, a new single, "Spacer Woman From Mars" — billed as Johan Agebjörn Featuring Sally Shapiro — was made available on iTunes last week.
Here's the video for "Jackie Jackie (Spend This Winter With Me)," off Disco Romance:
Of course, it should be noted that Johan and Sally's appearances in the States are billed as DJ sets, and even the producer himself has apparently never seen the singer record her own vocals. In a rare interview with Pitchfork last October, she stated the following: "I actually have some recordings– because I do it at Johan's place, because he has the [equipment]. So there are some recordings where I'm singing to the computer, and Johan comes into the door because he has to fetch something and then you hear on the tape that I am disturbed and I am saying with an angry voice, [mimics] Oh, you are coming in here when I'm singing; you're not supposed to do that! Very nice, I have that on tape now. I saved it."
Sally Shapiro's U.S. label is set to release a remix album, Remix Romance Vol. 1, on April 15.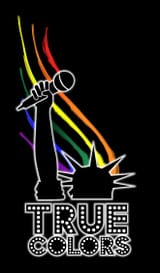 The lineup for this summer's 24-date True Colors Tour was announced today, with tickets going on sale March 15. Cyndi Lauper will co-headline the events with The B-52s. Last year she and Erasure shared the top billing. Billboard.com notes: "TV personality Carson Kressley will host the shows, which will also feature appearances by Rosie O'Donnell, the Indigo Girls, Joan Jett and Regina Spektor… Organizers plan to stress the need to vote in the fall presidential election and will also be raising funds for gay, lesbian and transgendered advocacy groups through the True Colors Fund of Stonewall Community Foundation." Additionally, Joan Armatrading, Tegan & Sara, Wanda Sykes, Nona Hendryx, Deborah Cox and the Cliks will appear on certain dates of the tour.

Well, it's about time! Four years after enthralling dancefloors and electro hipsters the world over, Norwegian artist Annie popped a new song, the Richard X-produced "I Know Your Girlfriend Hates Me," up on her MySpace on Monday. (Richard X also produced her hit single, "Chewing Gum.") But just as quick as it appeared, the track was removed. Annie's next full-length album is due out next month from Island Records.

Miss Jackson unseats Jack Johnson with her first #1 album in seven years.

Former *NSync and Backstreet Boys impressario Lou Pearlman, now jailed for orchestrating bank and investment fraud scams totaling $300 million, is set to enter a guilty plea tomorrow in an Orlando court. By entering into a plea deal, the charges against him carry a maximum of 25 years in prison and a $1 million fine. Journalist Bryan Burrough wrote a detailed story on Pearlman in last November's Vanity Fair titled "Mad About The Boys," which also explored Pearlman's alleged sexually predatory nature with certain males in the acts he managed.

British three-piece act Keane raise speculation about a new, fourth member after a mysterious image crops up on the band's website.

Been wondering what's up with the Pet Shop Boys lately? "Chris and Neil have been writing new songs for much of this year," reports their official website, "and will continue until they feel they have enough songs for a new album. The writing sessions have proved very fertile with, so far, seven new songs being completed. Some of the songs they wrote early last year are also likely to feature on the album. Meetings with potential producers are already being lined up for March. The release date for the new album will probably be early 2009.

THE WEEK'S NEW RELEASES: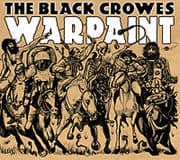 Warpaint by The Black Crowes, which was the subject of recent controversy when Maxim ran a lukewarm review of the album in its March issue without the writer having ever heard it.
Go Away White, the first studio album from goth rockers Bauhaus in 25 years, and their pledged final one as a band.
Billy Bragg's Mr. Love & Justice, which is available in two versions — one with his usual backing band on accompaniment, and one that's a straightforward acoustic affair.
Good Time, the 15th solo album by country crooner Alan Jackson.