My Gayest Look: A site for Jay Leno. Submit yours!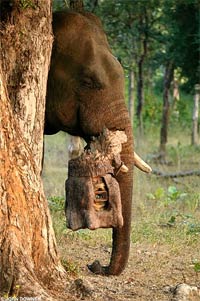 A view of the jungle shot by an elephant who carries around a hidden camera in a log.

Britney Spears may soon have her own sitcom!

Straight cops at University of New Mexico claim discrimination by gay superiors: "The two complaining officers, with a combined 24 years of experience with the UNM police department, filed a complaint with the state Department of Workforce Solutions arguing that they are being treated unfairly because they are straight and their superiors are gay. Lieutenant Michael Young contends that his job as administrative lieutenant was taken from him by Police Chief Kathy Guimond, whom Young claims is gay, and given to Lieutenant Patrick Davis, who is also gay. Young also claims another gay superior, Commander Debbie Kuidis, with Davis were given higher evaluation ratings by Chief Guimond and greater pay raises."

Karl Lagerfeld bodyguard smacks down paparazzo: "A paparazzo lurked from out of the shadows and started snapping away at them, and out of nowhere, one of Lagerfeld's guys just threw him to the ground." I wonder if it was Sebastian?

Scott Heim talks to the SF Chronicle about his latest novel, We Disappear: "What's true and what isn't – that's such an obsession with so many readers. If you say it's totally fictional, or you don't fess up to things, they tend to feel like they've been cheated or something. But if you say, 'Oh yeah, it's from experience,' then they kind of have this idea that you don't have an imagination."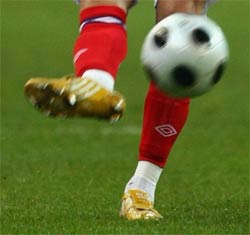 David Beckham earns his 100th cap in a pair of golden booties.

The booties so impressed Beckham's son Romeo, that he dug for some gold of his own.

Keith Richards discusses Mick Jagger's sexuality: "It was camp. Yeah. It was all… I really have no idea if anyone ever shoved it up the shitter."

Kids coming out earlier than ever: "We're working not for tolerance, but for acceptance. I don't care if it's race, gender or sexual orientation. We need to accept the uniqueness of each and every one."

Student ambassadors train against school violence: "The training session was dedicated to Lawrence King, the Oxnard junior high school boy who last month was shot and killed, allegedly by a classmate, purportedly for admitting he was gay. The Oak Park ambassadors, who maintain anonymity for safety reasons, wrote their comments on a poster in memory of the 15-year-old victim: 'Lawrence, what happened to you is extremely unfair. Everyone deserves a chance in life no matter what sex, religion, sexual preference, anything. Your story will teach many people to be better people.' And, 'You are told to forgive and forget but the reality is you don't do either.'"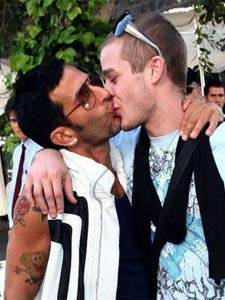 Marc Jacobs hits L.A. with new man.

Melbourne, Australia teacher fined $3,000 for blackmailing former lover with a sex video: "Hicks became aware that the victim was a 'closet homosexual' who had a wife and daughter who were not aware of his activities, Judge Michael McInerney told the court. 'He was discreet, or discreet as one can be if you pick up someone in a public toilet,' he said. The court was told that during one of their liaisons, Hicks – who also was married, had a child and was bisexual – recorded them on his mobile phone participating in a sex act. Hicks later approached the victim and told him he had a video of them and that he wanted $3,000 or he would show it to the victim's wife and put it on YouTube, the court heard."

Project Runway winner Christian Siriano designed the dress that Kimberley Locke performed in on last night's American Idol.

Leona Lewis is the first UK female artist to top the U.S. charts in more than 20 years, since Kim Wilde's 1987 cover "You Keep Me Hangin On".

Anti-gay domestic partner bill dies in Kentucky senate: "The Kentucky Senate's Health and Welfare Committee voted to defeat a bill yesterday that would have barred state universities and other public agencies from providing health coverage to employees' domestic partners. Furthermore, committee member David Watkins (right) scolded the bill's sponsor, Vernie McGaha, for introducing it, calling the legislation divisive and ignoring the state's biggest health problems like smoking and obesity, according to The Courier Journal."