New York Governor Eliot Spitzer resigns: "From those to whom much is given, much is expected. I have been given much: the love of my family, the faith and trust of the people of New York and the chance to lead this state. I am deeply sorry that I did not live up to what was expected of me. Over the course of my public life, I have insisted — I believe correctly — that people regardless of their position or power take responsibility for their conduct. I can and will ask no less of myself. For this reason, I am resigning from the office of governor."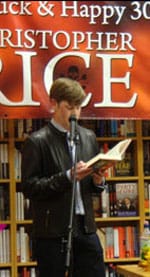 Christopher Rice turns 30. Happy Birthday, Chris!

Kevin Federline to make his Broadway debut in Legally Blonde? Pal: "This is his chance to show the world what he can do."

Geraldine Ferraro stepping down from Clinton campaign. Letter: "Dear Hillary – I am stepping down from your finance committee so I can speak for myself and you can continue to speak for yourself about what is at stake in this campaign. The Obama campaign is attacking me to hurt you. I won't let that happen. Thank you for everything you have done and continue to do to make this a better world for my children and grandchildren. You have my deep admiration and respect. Gerry."

Jodie Foster says she hasn't fallen in love. But what about her beautiful Cydney?

Nicolas Sarkozy and Shimon Peres decide not to kiss.

Martina Navratilova regains her Czech citizenship, almost three decades after fleeing the former Communist regime. She's also frustrated with the current administration in the United States: "The thing is that we elected Bush, that is worse. Against that, nobody chose a Communist government in Czechoslovakia."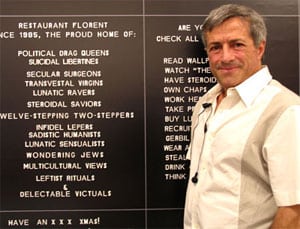 NYC landmark restaurant Florent closing in June on Gay Pride: " When his lease on 69 Gansevoort St. expires on March 31, rent will increase from $6,000 a month to approximately $50,000, and it's unlikely a deal will be struck. Florent is currently battling his landlord in court over tax increases and is withholding rent as a result. The litigation also means he does not plan to simply pack up shop on the 31st. 'I talked to my lawyer and [the restaurant] will stay open for two or three months. I'd like to end on a high note and I think Gay Pride Day would be perfect.' That's June 29, in case you want to put it in your book. He also says he'd like to hold a writing contest – 'people could write their best story, the most insane story, of the restaurant' – with the winner receiving a dinner on the final night."

John McCain still hanging on to anti-gay Pastor John Hagee: "I will say that he said that his words were taken out of context, he defends his position. I hope that maybe you'd give him a chance to respond. He says he has never been anti-Catholic, but I repudiate the words that create that impression."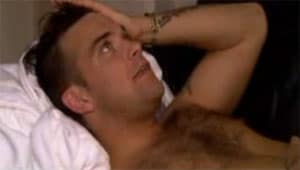 Robbie Williams mangina (NSFW).

Mehdi Kazemi, the gay Iranian teen I posted about earlier in the week who faced deportation from The Netherlands back to the UK where he faced another possible deportation back to Iran, where he'd likely be executed, lost his asylum appeal in the Netherlands: " Tuesday's decision by the Council of State — the highest administrative court in the Netherlands –means Kazemi could face deportation to Britain, which he fears will send him back to Iran. Council spokeswoman Daniela Tempelman said the council decided it must comply with the Dublin Regulation and return Kazemi to Britain. Video Watch how teenager has lost his right to remain. Under the Dublin Regulation, European Union member nations agree that an application for asylum submitted in any EU country would be handled by that country alone. The regulation seeks to ensures that an asylum seeker is not redirected from nation to nation simply because none will take responsibility."