Just hours after being sworn in yesterday, both New York Governor David Paterson and his wife Michelle made the wise move of admitting to extramarital affairs before others could reveal their secrets.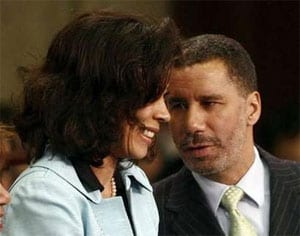 "In the course of several interviews in the past few days, Paterson said he maintained a relationship for two or three years with 'a woman other than my wife,' beginning in 1999. As part of that relationship, Paterson said, he and the other woman sometimes stayed at an upper West Side hotel — the Days Inn at Broadway and W. 94th St. He said members of his Albany legislative staff often used the same hotel when they visit the city. 'This was a marriage that appeared to be going sour at one point,' Paterson conceded in his first interview Saturday. 'But I went to counseling and we decided we wanted to make it work. Michelle is well aware of what went on.' In a second interview with Paterson and his wife Monday, only hours after he was sworn in to replace scandal-scarred Eliot Spitzer, Michelle Paterson confirmed her husband's account. 'Like most marriages, you go through certain difficult periods,' Michelle Paterson said. 'What's important is for your kids to see you worked them out.' The First Couple agreed to speak publicly about the difficulties in their marriage in response to a variety of rumors about Paterson's personal life that have been circulating in Albany and among the press corps in recent days."
Ah yes, marriage, that sacred institution. God forbid the gays get it, because it might be disrespected.
Gov. Paterson admits to sex with other woman for years [ny daily news]
AFTER THE JUMP, footage from Paterson's fairly entertaining swearing-in ceremony.
(via shakesville)
related
Report: NY Governor Eliot Spitzer Linked to Prostitution Ring [tr]
Battle of Attention Whores: Matos McGreevey Denies 3-Way Claim [tr]