A homophobic atmosphere and anti-gay chants are making it uncomfortable for gay fans to see pro hockey games at Madison Square Garden, the New York Times reports: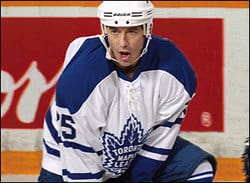 Ray Stankes, 50, of Bayside, Queens, said he canceled season tickets he had had for 25 years in part because of the antigay environment. 'This is a place where I grew up, and I never really felt uncomfortable at the Garden,' Stankes said. 'I didn't wear it on my sleeve that I'm gay. If I take a friend who is also gay who, for lack of a better term, is not as masculine, I'm always sitting there a little tense. Like, is somebody going to say something to us? And it's made it not quite as fun as it used to be.'"
Longtime straight season-ticket holder Larry Goodman, whose signature "goofy dance" has apparently become a staple at games is routinely trashed with chants of "Ho-mo La-rry", the New York City Gay Hockey Association was booed by the stadium when their name was announced on the big screen, and homophobic remarks toward players have become more and more common.
Sounds a lot like the trouble that European football officials have been having abroad. Last year they implemented a zero-tolerance policy for such remarks. Maybe that's the solution.
Sounds like a better one than the suggestion offered up by 25-year-old season ticket holder Ricardo Pereira: "It's a hockey game. Hockey players are tough. Deal with it."
When Tradition and Taunts Collide: Gay Hockey Fans Criticize Garden [nyt]
You may have missed…
Hockey Legend Bobby Orr and Fellow Players in the Flesh [tr]
Toronto Maple Leafs and Jiri Tlusty Respond to Nude, 'Gay' Photos [tr]
NHL Toronto Maple Leaf Rookie Jiri Tlusty: "I am Not Gay" [tr]
Tom Cavanagh: Kissing a Man? No Problem [tr]
Professional Hockey, Gays, and the "Ex-Gays" Who Hate Them [tr]