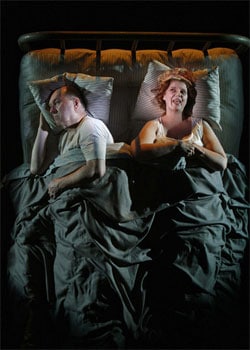 The play served as an inspiration to young Tennessee Williams when he wrote an early work in 1941 which seems quite influenced by Rice's dramatic treatise on the treachery of capitalism. Titled Stairs to the Roof, it finally had its premiere at the Pasadena Playhouse in 1947. Like The Adding Machine, Williams' play concerned robotic-like workers stuck as cogs in a larger impressionistic wheel formed by the mendacity of corporate America, depended on a deus ex machina, and had letters as its characters names instead of numbers as Rice labeled his. There is also an overlooked 1969 film of The Adding Machine, Rice's most famous play — some might say that Street Scene is more famous — which starred Milo O'Shea as Mr. Zero, Phyllis Diller — yes, Phyllis Diller! — as his wife, and the great Samuel Beckett interpreter, English actress Billie Whitelaw as Mr. Zero's secretary and lover, Daisy. Any film able to contain Diller and Whitelaw in the same frame is worthy of a Beckett play itself.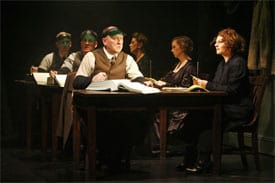 Adding Machine is beautifully performed by all concerned — yet doesn't quite seem to reach its aspirations as a modern day Weill opera. (Weill himself chose Street Scene to musicalize.) Composer and co-librettist Josh Schmidt and Jason Loewith, who wrote the libretto with him, have done an amazing job, however, combining many musical styles into a creepy mishmash suitable to the source material. And director David Cromer has cast the show with an art director's appreciation of faces. Looking at the actors and actresses onstage one feels as if one is seeing photographs from the 1920s come to life. Joel Hatch as Mr. Zero is a blank-eyed wonder as the murderer, Mr. Zero. Cyrilla Baer opens the show with an atonal-like aria that grates and yet grabs the heart. But the true star of the evening is Amy Warren as Daisy. She is as wonderful a singer as she is an actress. She is adamantly present onstage, her odd looks as compelling as they are sexual. I couldn't take my eyes off her. It was as if Miss Piggy were channeling Lotte Lenya.
T T T (out of 4 possible T's)
Adding Machine, Minetta Lane Theatre, 18 Minetta Lane, New York. Ticket information here. (photo: carol rosegg)
***PARLOUR SONG
You've got one more week to catch the fugue-like Parlour Song by Jez Butterworth at the Atlantic Theatre. Beautifully directed by Neil Pepe, it concerns a married British couple portrayed by Chris Bauer and Emily Mortimer, and their mendacious neighbor played by Jonathan Cake. Butterworth is kind of a resident playwright of the Royal Court, three of his previous plays having been staged there — The Winterling, The Night Heron, and Mojo. The Atlantic staged wonderful and visceral productions of those last two plays here in New York. Yet Parlour Song — maybe its very title is a hint about this — is not visceral at all. There is a quietude about the domestic desperation it puts on display for us. I appreciated it — the staging, the language, the acting — more than I was moved by it. Some of its imagery was stunning yet at other times it seemed as if Butterworth had overplayed his metaphoric hand. Go and judge for yourself if you're a theatre buff. It is certainly worth catching before it closes. Cake, staking his claim as New York's newest leading man, once again doffs his clothes for his growing fan base here in New York. Bauer is brilliant in displaying the sharp anguish that keeps surfacing in his pudgy body. And Mortimer is a marvel. She dangerously channels a middle-class housewife's ennui into a lacerating sensuality. She'd be great as Ruth in the next revival of Pinter's The Homecoming.
T T 1/2 (out of 4 possible T's)
Parlour Song, Linda Gross Theater, 336 West 20th Street, New York. Ticket information here.
Recent Reviews
On the Stage: Crimes of the Heart, Sunday in the Park with George, and November [tr]
On the Stage: Come Back, Little Sheba and Next to Normal [tr]
On the Stage: The 39 Steps and Almost an Evening [tr]
On the Stage: Is He Dead? and The Little Mermaid [tr]
On the Stage: Holiday Fare — The Drowsy Chaperone, West Side Story, Xanadu and The Color Purple [tr]