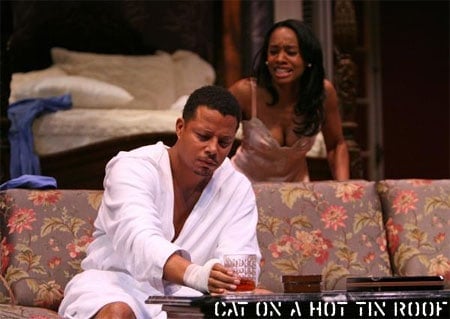 Kevin Sessums last reviewed Crimes of the Heart,
Sunday in the Park with George, and November for Towleroad. You can also catch up with Kevin online at his own blog at MississippiSissy.com.
Mendacity is the word that Tennessee Williams — probably smiling to himself every time he typed that first syllable into his typewriter — strikes like a discordant bell at the height of his soap-opera-as-masterpiece, Cat on a Hot Tin Roof. It's the word that Brick, the closeted alchoholic heart of the play, throws at his father, Big Daddy, when trying to explain to him why he's turned to the bottle. Indeed, mendacity is at the very heart of three wildly different productions I've seen lately.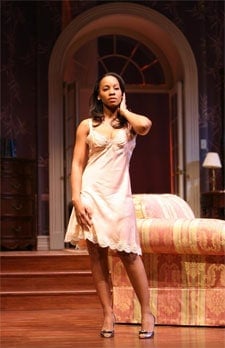 Let's start with Cat, director Debbie Allen's African American production of the play. I went to a recent matinee with an open-mind regarding the rejiggering of Williams 1955 play in order to fit it into the black experience in America. And yet no rejiggering was really needed. Allen did seem to update it to a hazy idea of the 1970s with her costume choices and hair styles and the tacky nouveau-riche interiors. But the play works remarkably well with African American actors — or at least the African American actors she cast. This production is certainly on a higher level than the one that opened a few years ago on Broadway to disastrous reviews which starred Ashley Judd, Jason Patric, Ned Beatty, and Margo Martindale. Judd and Patric seemed lost in their roles but Beatty and Martindale as Big Daddy and Big Mama were magnificent.
I've seen my share of Cats. My first year living in New York in 1974 I saw Elizabeth Ashley give her now legendary portrayal of Maggie the Cat opposite the Brick of Keir Dullea. Fred Gwynne (yes, Herman of the TV show The Munsters) played Big Daddy and Kate Reid his wife. In 1990 I saw Kathleen Turner make her Broadway debut with a stunningly sexual Maggie opposite a boring Daniel Hugh Kelly (yes of the TV show Hardcastle and McCormick) as Brick. Charles Durning played Big Daddy and Polly Holiday (yes, kiss-my-grits Flo from the TV show Alice) played Big Mama. In 1976 Natalie Wood and Robert Wagner starred in a television version that, even with Sir Laurence Olivier as Big Daddy and Maureen Stapleton as Big Mama, was painful to watch. A later television version in 1985 with Jessica Lange and Tommy Lee Jones restored my faith in the play. Rip Torn played Big Daddy in that production and the great Kim Stanley tore my heart out as Big Mama.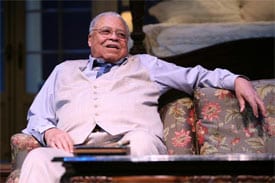 I'm sure most of you have seen the 1958 film version starring Elizabeth Taylor and Paul Newman as their most beautiful selves. Dame Judith Anderson was oddly cast as Big Mama and Burl Ives, recreating his portrayal of Big Daddy in the Broadway production, won an Oscar for his portrayal of Big Daddy. The film itself lost out that year to Gigi as Best Picture. Others in the original Broadway production were Barbara Bel Geddes as Maggie (yes, Miss Ellie of the TV show Dallas) and Ben Gazarra as Brick. For you trivia buffs, Cliff Roberston was Gazzara's understudy. Mildred Dunnick played Big Mama.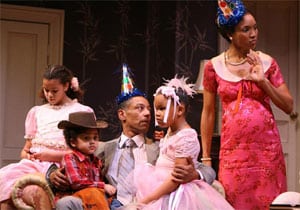 All of that is to say, I'm a bit of a Cat fanatic so I'm happy to report that Allen's production at the Broadhurst Theatre is a good introduction if you've not been as lucky as I to have ever seen a stage production of the play, which concerns, in real time, the night of Big Daddy's birthday party when he discovers he's dying of cancer and all the forms of mendacity that surround him on that night. James Earl Jones as Big Daddy is gruff and touching; his bluster is heartbreakingly rendered in that incongruous way only a great actor can summon when an array of emotions are all put on display at the same time. The second act in which he confronts Brick is the highlight of this production. Terrence Howard, making his stage debut, is not only amazingly sexy in the role — just listen to the women and some of us men in the audience audibly swoon when he makes his entrance — but is able to to convey the real anger and confusion at his core in a role that is maddeningly passive the way that Williams wrote it as if Williams was uncertain himself of what he thought of the character and the character's choices in life because at that time in his own life the issues that Brick was dealing with were so close to to him.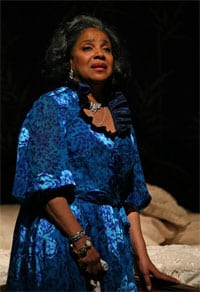 Phylicia Rashad (yes Claire Huxtable of the Bill Cosby Show) overacts a bit in her role as Big Mama but Big Mama herself, let's face it, is a bit of an over-actor. It's her way of coping. Anika Noni Rose who was so great in both the stage musical Caroline, or Change and the film version of Dreamgirls, acquits herself admirably as Maggie. She is a consummate actress but not yet a fully mature one so that Maggie's hunger – sexual and material and emotional – seemed forced at times. But because of her musical background, she handles the first act aria of a soliloquy with remarkable aplomb.
Three quibbles. For some reason Allen has inserted a strolling saxophone player needlessly at the start of the play and between the three acts. Lisa Arrindell Anderson as Mae, Brick's sister-in-law, is giving one of the most archly awful performances I've ever witnessed. And Allen, who has failed to rein in Anderson, has pointed up the comedic moments of the play so that when Williams is at his most touching or his characters are at their most cruel, the audience has already been conditioned to laugh. It felt at times as if I were sitting in the audience of one of those many television shows I've mentioned.
T T T (out of 4 possible T's)
Cat on a Hot Tin Roof, The Broadhurst Theatre, 235 West 44th Street, New York. Ticket information here.
***ADDING MACHINE
There's nothing television-like about the musical adaptation of Elmer Rice's expressionistic play, The Adding Machine, now at The Minetta Lane Theatre. Adding Machine (the The, like any semblance of sentimentality, has been jettisoned for this production) has transferred to New York from the Next Theatre Company in Chicago where it won a passel of Joseph Jefferson Awards, that city's equivalent of the Tony. It's caused a buzz in theatre circles here as well.
Continued AFTER THE JUMP…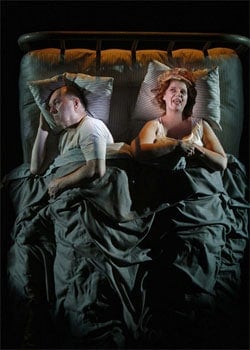 The play served as an inspiration to young Tennessee Williams when he wrote an early work in 1941 which seems quite influenced by Rice's dramatic treatise on the treachery of capitalism. Titled Stairs to the Roof, it finally had its premiere at the Pasadena Playhouse in 1947. Like The Adding Machine, Williams' play concerned robotic-like workers stuck as cogs in a larger impressionistic wheel formed by the mendacity of corporate America, depended on a deus ex machina, and had letters as its characters names instead of numbers as Rice labeled his. There is also an overlooked 1969 film of The Adding Machine, Rice's most famous play — some might say that Street Scene is more famous — which starred Milo O'Shea as Mr. Zero, Phyllis Diller — yes, Phyllis Diller! — as his wife, and the great Samuel Beckett interpreter, English actress Billie Whitelaw as Mr. Zero's secretary and lover, Daisy. Any film able to contain Diller and Whitelaw in the same frame is worthy of a Beckett play itself.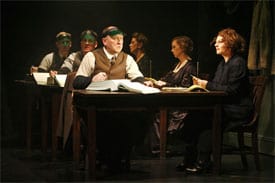 Adding Machine is beautifully performed by all concerned — yet doesn't quite seem to reach its aspirations as a modern day Weill opera. (Weill himself chose Street Scene to musicalize.) Composer and co-librettist Josh Schmidt and Jason Loewith, who wrote the libretto with him, have done an amazing job, however, combining many musical styles into a creepy mishmash suitable to the source material. And director David Cromer has cast the show with an art director's appreciation of faces. Looking at the actors and actresses onstage one feels as if one is seeing photographs from the 1920s come to life. Joel Hatch as Mr. Zero is a blank-eyed wonder as the murderer, Mr. Zero. Cyrilla Baer opens the show with an atonal-like aria that grates and yet grabs the heart. But the true star of the evening is Amy Warren as Daisy. She is as wonderful a singer as she is an actress. She is adamantly present onstage, her odd looks as compelling as they are sexual. I couldn't take my eyes off her. It was as if Miss Piggy were channeling Lotte Lenya.
T T T (out of 4 possible T's)
Adding Machine, Minetta Lane Theatre, 18 Minetta Lane, New York. Ticket information here. (photo: carol rosegg)
***PARLOUR SONG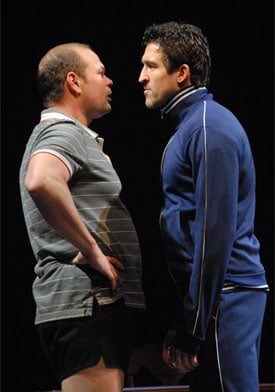 You've got one more week to catch the fugue-like Parlour Song by Jez Butterworth at the Atlantic Theatre. Beautifully directed by Neil Pepe, it concerns a married British couple portrayed by Chris Bauer and Emily Mortimer, and their mendacious neighbor played by Jonathan Cake. Butterworth is kind of a resident playwright of the Royal Court, three of his previous plays having been staged there — The Winterling, The Night Heron, and Mojo. The Atlantic staged wonderful and visceral productions of those last two plays here in New York. Yet Parlour Song — maybe its very title is a hint about this — is not visceral at all. There is a quietude about the domestic desperation it puts on display for us. I appreciated it — the staging, the language, the acting — more than I was moved by it. Some of its imagery was stunning yet at other times it seemed as if Butterworth had overplayed his metaphoric hand. Go and judge for yourself if you're a theatre buff. It is certainly worth catching before it closes. Cake, staking his claim as New York's newest leading man, once again doffs his clothes for his growing fan base here in New York. Bauer is brilliant in displaying the sharp anguish that keeps surfacing in his pudgy body. And Mortimer is a marvel. She dangerously channels a middle-class housewife's ennui into a lacerating sensuality. She'd be great as Ruth in the next revival of Pinter's The Homecoming.
T T 1/2 (out of 4 possible T's)
Parlour Song, Linda Gross Theater, 336 West 20th Street, New York. Ticket information here.
Recent Reviews
On the Stage: Crimes of the Heart, Sunday in the Park with George, and November [tr]
On the Stage: Come Back, Little Sheba and Next to Normal [tr]
On the Stage: The 39 Steps and Almost an Evening [tr]
On the Stage: Is He Dead? and The Little Mermaid [tr]
On the Stage: Holiday Fare — The Drowsy Chaperone, West Side Story, Xanadu and The Color Purple [tr]