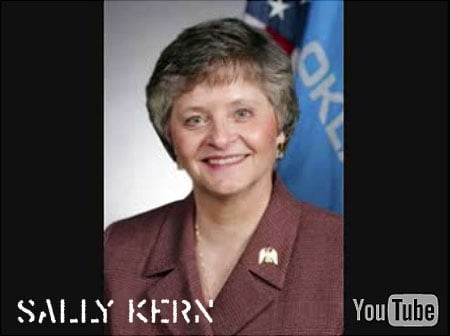 Last Friday I posted the secretly-taped diatribe against homosexuality which Oklahoma State Representative Sally Kern thought she was delivering to no more than 50 people. It has become a viral YouTube phenomenon. Kern's bigoted rant against gays and copies of it have been viewed well over half a million times. I've reposted the audio as well as a statement Kern released defending herself AFTER THE JUMP, in case you want to get angry again.
Here's an update on the Kern story.
On Monday, the Dallas News reported that Kern had received over 3,000 emails and hundreds of telephone calls, some containing death threats.
Said Kern, who is the wife of a Baptist minister (which explains a lot): "I was talking about an agenda. I was not talking about individuals. They have the right to choose that lifestyle. They do not have the right to force it down our throat. I have never said hate speech against anybody. I would never do that."
Tulsa World reported the number of emails Kern had received at 5,000: "Most of the communications were critical, and several contained language that Kern said she has never heard before. The lawmaker related some of the e-mails to Republican caucus members in a closed meeting Monday. She later said the group gave her a standing ovation."
Kern believes she has the first amendment right to defame an entire group of people. Said Kern, in her statement released yesterday: "To put this simply: As a Christian I believe homosexuality is not moral. Obviously, you have the right as an American to choose that lifestyle, but I also have the right to express my views, and my fellow Oklahomans have the right to debate these issues."
Laura Belmonte, president of the Tulsa group Oklahomans for Equality, responded to that defense: "'I find it particularly interesting that she (Kern) is invoking freedom of speech for these remarks,' Belmonte said, noting that Kern sponsored a bill a few years ago to restrict access to library books that might contain gay or les bian themes or information."
Kern has vowed not to apologize.
Yesterday, GLAAD called on the media to hold Kern accountable for her remarks.
Said GLAAD President Neil Giuliano: "This type of hateful and defamatory language from our public officials is completely unacceptable. GLAAD calls on its members and allies to stand together to hold elected officials like Kern, pledged to serve all the people, accountable for promoting hatred and bigotry. Media have a responsibility to cover Kern's ugly remarks, not only to hold her accountable for her misinformed, inaccurate claims about gay and lesbian people, but also to bring to light the anti-gay attitudes and beliefs that are still all too common in our country, Kern's hateful assertions highlight the need for media to examine how the anti-gay attitudes of elected officials impact their diverse constituencies."
Listen to the infamous audio clip and read the statement Kern issued yesterday, AFTER THE JUMP…
***STATEMENT FROM SALLY KERN***
OKLAHOMA CITY – State Rep. Sally Kern (R-Oklahoma City) issued the following statement today in response to the criticisms of homosexual activists who have objected to a recent speech she gave on their efforts to promote their agenda at both the federal and state level.
"To put this simply, as a Christian I believe homosexuality is not moral. Obviously, you have the right as an American to choose that lifestyle, but I also have the right to express my views and my fellow Oklahomans have the right to debate these issues.
"In recent years homosexual activists have begun to aggressively promote their agenda through the political process, often providing substantial financing to candidates who agree with their views, including many running for state legislative races. National publications such as Time, The Atlantic and USA Today have noted that trend. That is their right, just as it is my right to voice opposition to their agenda, which I have been asked to do at several public forums in recent months. That's what democracy is all about. It appears some homosexual activists believe only one group is allowed a voice in this debate. I disagree.
"A vigorous debate on an issue is not 'hate speech' – it's free speech. I have made clear my opposition to the agenda of homosexual activists, but I have never endorsed or supported any hateful action targeting individuals on the other side of this debate and never will. The fact that many gay rights activists claim anyone opposing their agenda is engaging in 'hate speech' says more about them than me.
"Most Oklahomans are socially conservative and believe marriage is a sacred institution, the union of one man and one woman, and that the traditional family is worth protecting and preserving. When I campaigned for office, I promised my constituents to stand up for those values, and I do not apologize for keeping my word."
***END OF STATEMENT***
Capitol Address:
2300 N. Lincoln Blvd. Room 332
Oklahoma City, OK 73105
(405) 557-7348.
District Address:
2713 Sterling Ave.,
Oklahoma City, OK 73127.
Email: sallykern@okhouse.gov or srkern@cox.net