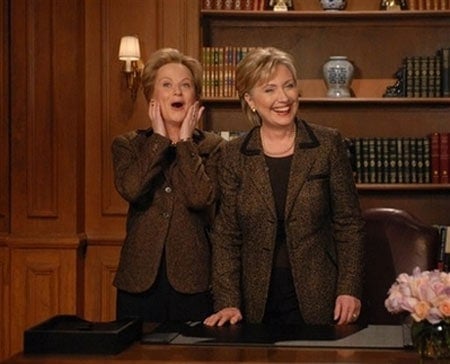 Hillary Clinton made an appearance on Saturday Night Live over the weekend, facing off with her doppleganger Amy Poehler, after Poehler and Fred Armisen (as Obama) satirized the recent Democratic debate.
CLINTON: Thank you and good evening. The scene you just saw was a reenactment, sort of , of last Tuesday's debate, and not an endorsement of one candidate over another. I can say this confidently, because when I asked if I could take it as an endorsement, I was told, absolutely not. But I still enjoyed that sketch a great deal, because I simply adore Amy's impression of me.
POEHLER: Ah well, my ears are ringing.
CLINTON: Hi, how are you?
POEHLER: Good thank you.
CLINTON: I'm glad to be here. Thanks for having me.
POEHLER: Thank you for coming. I love your outfit.
CLINTON:Well, I love your outfit…
POEHLER: Why, thank you.
CLINTON: …but I do want the earrings back.
POEHLER: Oh, okay. (cackles)
CLINTON: Do I really laugh like that?
POEHLER: Well, well, well, well…so…how's the campaign going?
CLINTON: Well, the campaign's going very well. Very, very well. Why, what have you heard? NEver mind, I am just so happy to be back in New York. Even for a few hours. Tonight, I just want to relax, have fun, not worry about the campaign.
POEHLER: But no politics.
CLINTON: No politics. But I would like to take this opportunity to say to all Americans, be they from the great state of Ohio or Texas, Rhode Island or Vermont, Pennsylvania or any of the other states, live from New York it is Saturday night!
View the full clip (it follows a reenactment of last week's debate) AFTER THE JUMP…
Also appearing on SNL, during the weekend update segment, was Rudy Giuliani, who explainedthat one of the key reasons his campaign fell apart was because he wore a dress on Saturday Night Live. The show also featured an animated segment called "The Obama Files".