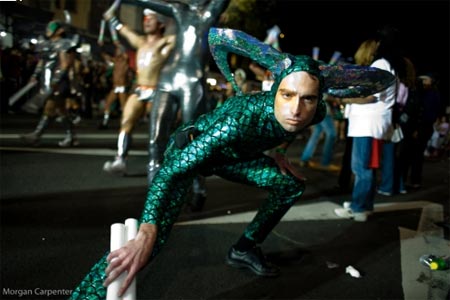 The 30th annual Mardi Gras went off over the weekend in Sydney, drawing a crowd of at least 300,000.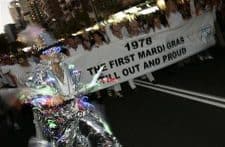 AP: "What began in 1978 as a protest march by 1,500 brave homosexual, lesbian and transsexual men and women that was harshly disbursed by police has grown into one of the world's largest and most flamboyant gay pride events. This year's procession of 150 floats was led by the '78ers' — a group of 186 of the original marchers and their partners, who drew rapturous cheers."
Below, coverage from the Australian video featuring Margaret Cho, Kathy Griffin (who arrived there, of course, on the pink flight, and Carson Kressley, whom they identify as Carson Daly:
Craig Gee, who was brutally beaten in an anti-gay attack on Oxford Street three months ago, marched in the parade with his partner Shane Brennen.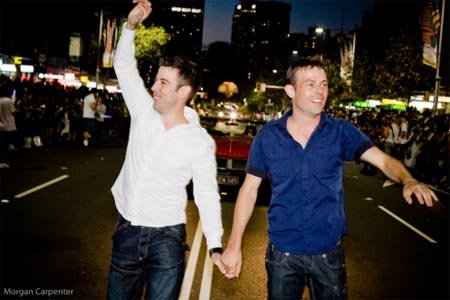 Said Gee: "Unfortunately, homophobic violence will only recede when gay people [decide to] stand up and be counted. Shane and I are determined not to feel ashamed of our sexuality, nor to feel scared to walk the streets of Sydney, our home. To lead Mardi Gras will play a huge part in our recovery and we hope that with the support of 10,000 other marchers we will be able to do it."
Main photos by Morgan Carpetner for Same Same, where you can find many more galleries of the parade and parties.
MArdi Gras photo coverage [same same]
Sydney Celebrates 30th Gay Mardi Gras [ap]
BBC Slide Show [bbc]
30-year Anniversary look-back [news.com]
Video [news.com]