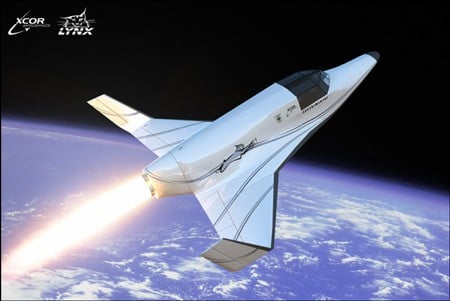 In this week's tech news, Jon Barrett looks at the newest entry in tourist space travel, the arrival of inflight cell phone calling (and showers), using your iPod to work out, Rickrolling, and your stupid questions answered by Calpernia Addams.

A company called Xcor Aerospace on Wednesday announced plans for a two-seater commercial spacecraft, called the Lynx, that could take its first test flight by 2010. Plans are for the spacecraft to take wealthy passengers on 25-minute spaceflights. "Our company's goal has always been to build rocket-powered vehicles that can be flown like regular aircraft," said company president Jeffrey Greason, who claims that the Lynx is relatively environmentally friendly: "They are fully reusable, burn cleanly, and release fewer particulates than solid-fuel or hybrid rocket motors," he says. See an animated clip of the Lynx in flight here.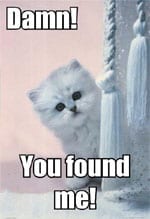 A new location-based service called FindMe uploads on your cell phone and then, using cell phone towers, will update your Facebook status based on your pre-tagged locations, such as "work," "home," etc. Reports Crave's Jessica Dolcourt: "It's a somewhat good, somewhat limited idea that suffers from half-backed presentation issues. For instance, FindMe doesn't believe in grammatical standards when updating Facebook, nor in identifying FindMe-produced status messages with a proprietary icon. Not only does this miss the promotion boat, it confuses friends who wonder why I keep changing my status to 'Jessica is at an unknown location,' or to this caveman grunt: 'Jessica Work.'"

Here is a very cool recycling program for those of you who live in Los Angeles, San Diego, Washington, D.C., and Chicago. Paid for by Clover Technologies, the Mail Back program provides free postage-paid envelopes at 1,500 post offices in these cities to mail back inkjet cartridges, PDAs, Blackberries, digital cameras, iPods, and MP3 players. Read the full press release here.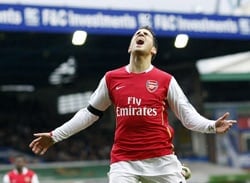 Get prepared to be annoyed on an upcoming long-haul flight—the age of in-flight cell phone calling has arrived. Emirates Airlines is partnering with the company AeroMobile and spending $27 million to outfit its planes with technology that allows passengers to use their mobile phones in the air. As Autopia explains: Emirates says passengers will only be allowed to make five or six calls per flight, and flight crews will have the power to turn the system on and off as needed. And for when you're not making telephone calls, the airline also promises that it will soon have showers in first class.

A homeowner in Jacksonville, Ore., came home to find nearly 30 people rummaging through his barn and front porch and thinking, because of a fake Craigslist post, that everything there—including a horse—was theirs for the taking. According Cnet's News.com: "The woman who showed up to take his horse finally started to feel uneasy about the whole deal when she realized that the horse looked perfectly healthy, and well, seemed to actually belong to someone. She left a note on the door and then decided to call [the homeowner] to make sure that the ad was legit."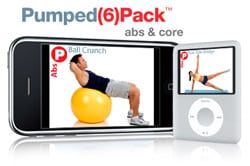 PumpOne, which sell individual workouts that can be played on different mobile devices (including a new iPod version), just released a new line of workouts—called Pumped for Summer 2008. I use PumpOne (when I actually make it to the gym), and it definitely helps me mix-up my exercise routine. But I'm not so sure I need a summer-specific program. Perhaps I should rephrase that. I definitely could use a summer-specific workout, but I'm not sure I would use one.

New York City's three Apple stores ran out of iPhones this week, according to The Huffington Post, and that led some people, including Kevin Rose of Digg, to predict that the company was clearing its stock to make room for a new, 3G phone. Rose says that the 3G iPhone will hit stores within the next three months and will have two cameras—one for video chat and the other for taking still shots.

Andy posted a link earlier this week to a Los Angeles Time story interviewing 80s singer Rick Astley about "Rickrolling." It led me to search for more on the phenomenon (which I found here) and, of course, take a look at the 1987 video for his song "Never Gonna Give You Up" (for those of you who haven't been Rickrolled).

If you've got a few minutes (OK, maybe more than a few minutes) check out this podcast from Calpernia Addams, star of the Logo show Transamerican Love Story. Here she takes on stupid questions.