A bill proposed by openly gay Rep. Jamie Pedersen, D-Seattle, extending 170 new rights to domestic partners in Washington State, passed the state senate by a vote of 29-20 Tuesday: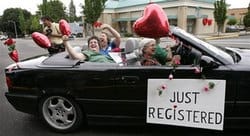 "The bill grants same-sex couples additional rights — including the ability to share bank accounts, the right to hold common property and immunity from testifying against one's partner in court. Divorce rights — including child-custody provisions — were also granted. The measure now goes to Gov. Chris Gregoire, who is expected to sign it into law. Republicans decried the bill for whittling away at the institution of marriage, saying the deterioration of marriage between a man and a woman would lead to a rise in crime, juvenile delinquency and parents working long hours."
The expansion of rights is seen as a step toward full marriage equality for same-sex couples.
Gay couples win new rights in bill [seattle post intelligencer]
Previously
Washington State Domestic Partner Law Takes Effect [tr]
Somehow, "Just Registered" Doesn't Have the Same Ring To It [tr]
Gay Rights Champ Pedersen Wins Key Seattle House Race [tr]