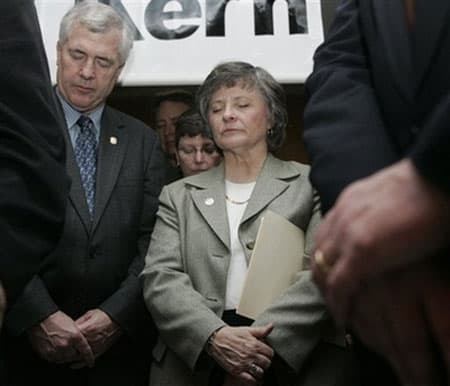 NOTE: This is an update of an earlier post…and it's worth pointing out that while AP puts the numbers at the protest at 1,000, a local news station puts them at 300, while the wishful thinkers at right-wing religious outlet WingNut Daily put them at 2,000.
Early reports are beginning to come in on the "Rally for Sally" sponsored by several right-wing religious "pro-family" groups along with over 50 pastors.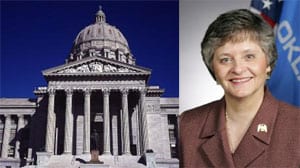 Via AP: "More than 1,000 people streamed into the Oklahoma Capitol Wednesday for a rally in support of state Rep. Sally Kern, the Republican lawmaker who drew national condemnation for anti-gay remarks caught in a YouTube audio clip. A 'We Stand With Sally Kern,' sign was posted in the Capitol's first-floor rotunda, where the rally was being held. Kern drew widespread criticism for her comments, including a remark that homosexuals are a greater threat than terrorists. Kern has rejected demands by gay and lesbian groups that she apologize for her remarks."
Above, Kern is pictured with state Rep. Mike Reynolds (R-Oklahoma City).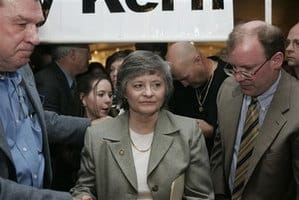 The Oklahoman reports: "Kern (pictured here with Jack Bettis and Americans for Truth's Peter LaBarbera) and several others, including a man who said he was gay until he found Jesus Christ, often quoted Scriptures while speaking to the crowd. Kern…said after the rally she was humbled by the turnout. 'This is not about me,' Kern told those at the rally. 'It's about the church having the right to speak out about the redeeming love of Jesus Christ Who died to set us all free from our sins.' Kern's husband, the Rev. Steve Kern, said it wasn't the purpose of the rally to bash homosexuals. 'We love them,' said Rev. Kern, pastor of Olivet Baptist Church in Oklahoma City… Kern said a biblical verse came to her after her comments were posted last month on the Internet. The passage is Philippians 1:12, where the apostle Paul wrote, 'I want you to know that what has happened to me has served to the advancement of the gospel. And that's the way I'm looking at this to God be the glory,' she said. Kern said again today she is not going to apologize. She said her comments were not against homosexuals, but were directed at the strategy of gay rights supporters to defeat conservative candidates. Kern's husband said he wasn't asking anyone to apologize for the thousands who sent hate mail to his wife's Capitol office and to their home or said mean things about their family. 'We forgive you,' he said. 'We have no animosity in our hearts toward you.'"
The Oklahoman earlier today published an editorial calling Kern a "one-trick pony" who should "work to do something constructive" with her time.
The Oklahoman wrote in an editorial: "Last week Kern met with one of the groups (PFLAG), based in Oklahoma City, and afterward its president called it 'a very productive conversation' and backed off the call for Kern to step down. But the next day, Kern said the group had taken her remarks from the meeting 'and spun them to make it appear that I am backing off my comments that homosexuality is a sin … and that I am in favor of sexual orientation laws.' She said neither could be further from the truth, and that the group had shown a 'lack of integrity' by twisting her words to fit its purposes. Oh, and she won't meet again with members. That's disappointing, but hardly surprising. Kern's main focus in the Legislature has been on anti-gay initiatives, such as trying to determine where libraries should place books with homosexual themes. 'God's Word does not change. … Therefore, my opinion also will not change,' she said last week. Kern will be shown a little love today when the American Family Association holds a rally in her support at the Capitol. Perhaps constituents ought to hold a rally of their own, urging this one-trick pony to put her tiresome personal agenda aside and work to do something constructive."
'Sally Rally' draws more than 1,000 Kern supporters [the oklahoman]
Sally Rally: People gather to support state lawmaker who made anti-gay remarks [tulsa world]
She said, she said: Lawmaker won't let issue go [the oklahoman]