On tax day, a reminder of how the U.S. inflicts extra financial burden on gay citizens.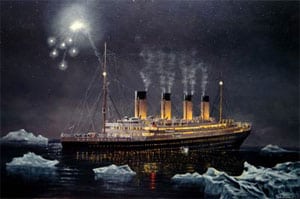 The last meal on the Titanic, which went down 96 years ago today. Researchers have a new theory behind the sinking — rivets.

ABC's Jake Tapper calls attention to the "Compassion Forum" appearance of Clinton and Obama at Messiah College, which I posted about last week. One of his readers asks, ""Shouldn't Democratic presidential candidates, both of whom are explicitly on the record as being in favor of gay rights, avoid schools like this as assiduously as previous generations of politicians were urged to avoid Bob Jones University? How can politicians appear at a college that espouses these ideas and then turn around and court the gay community at the same time? How can the two leading Democratic candidates appear on stage at this college and not be questioned by the press about the hypocrisy of appearing there?"

Kentucky GOP Rep. Geoff Davis on Obama: "I'm going to tell you something: That boy's finger does not need to be on the button. He could not make a decision in that simulation that related to a nuclear threat to this country." Davis apologizes…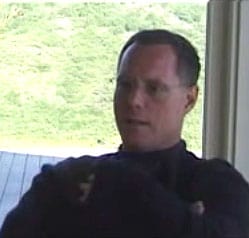 The gay Navy lieutenant from Melrose Place, Jason Beghe, escaped the clutches of Scientology and now he's speaking out on video: "It's very, very dangerous for your spiritual, psychological, mental, emotional health and evolution. I think it stunts your evolution. If Scientology is real, then something's fucked up."

Lack of support from London Mayor Ken Livingstone leaves 2008 International Gay & Lesbian Football Association World Championship with a funding shortfall: "Peter Tatchell of Outrage! described as 'scandalous' the lack of any funding or support from City Hall. 'Ken Livingstone is organising billions of pounds for corporate mega events like the 2012 Olympics but can't give a few thousand pounds to help host the gay football world championship.'"

A really mean box of jelly beans, which I'm actually really curious to taste.

Project Runway is getting not one but two spin-offs on Lifetime: "The first of them doesn't have a title yet, but Weinstein said it will look at the Project Runway world through the eyes of the show's models. The second, dubbed Project Pygmalion, is a makeover series that will turn its winner into a high-society socialite."


Somebody got carried away at the tattoo parlor.

Rick and Steve: The Happiest Gay Couple in the World wins big at Italian animation festival: "Cult hit half-hour show about three gay couples in the fictional 'gay ghetto' of West Lahunga Beach took the Pulcinella nod for TV series of the year. The Pulcinella for TV series for all ages went to RAI Fiction's 'Acqua in bocca' (Water and Bubbles), about two fish in a tank and their interaction with an Italian family, from helmer Guido Manuli."

Milo Ventimiglia dreamt of being a fighter pilot.

GYM bar in NYC to open up its locker room.

Queerty talks to author Scott Heim about his new novel We Disappear: "There were all these different disappearances in the book–including Scott Heim the writer disappearing into Scott the character—I liked this idea of readers not knowing where one starts and the others begin. There are a lot of things in the book that are total fiction. The danger of doing this blurring is when people do read this as a memoir."

Tom Cruise and David Beckham to buy a soccer team together?

A townhouse in New York's West Village transformed, part of New York magazine's excellent new occasional real estate section, Vu.

Fight to allow gay blood donors heats up in Scotland.

Judicial Watch calls on FEC to investigate Elton John's Hillary Clinton benefit concert: "Recent news reports suggest that Hillary Clinton and Hillary Clinton for President have accepted an in-kind contribution from a foreign national, Sir Elton John, in contravention of federal electon laws. On behalf of Judicial Watch and its supporters, I hereby request that the FEC investigate this matter."