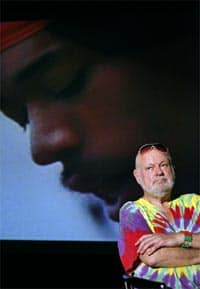 Ang Lee has set up another film with Focus Features, the studio behind Brokeback Mountain, this one based on the memoir Taking Woodstock: A True Story of a Riot, a Concert, and a Life
by Elliot Tiber, with Tom Monte.
Taking Woodstock tells the story of Tiber (right, today), a gay interior designer, part-time Catskills hotel manager and head of the Bethel, N.Y., Chamber of Commerce, and his role in facilitating the Woodstock Festival, providing the permit that made the Festival possible, as well as the eventual location on his milkman Max Yasgur's farm.
According to MSNBC, "The project is set up at Focus Features, and will be adapted by the studio's CEO, James Schamus. Lee and Schamus' most recent collaboration was Focus' Chinese-language drama "Lust, Caution," which earned $66 million worldwide."
The Miami Herald recently interviewed Tiber and Monte about the memoir as Tiber was screening his "docu-comedy" Woodstock: Ticket to Freedom (watch a clip, AFTER THE JUMP) in South Florida:
"The result was a sprawling 575-page manuscript Tiber tried for years to condense. 'I just couldn't do it,' [Tiber] says. So he worked with Tom Monte, an author best known for books on healing. In an odd way, it was a perfect pairing. Monte kept the focus on Woodstock and on Tiber. 'My work was about finding the heroic in Elliot and putting that on the page,' Monte says. It wasn't hard. The Tiber of Woodstock days 'had an amazing amount of energy. He worked so hard and he was an incredibly creative man doing everything he could think of to keep his parents out of the poorhouse and keep that hotel alive. He was also really smart,' says Monte. 'Bethel was not the great metropolis — it was pretty sleepy, pretty backward. It wasn't doing anything for itself. Elliot brought the great spaceship Woodstock to Bethel. If it were not for Elliot, it would not have happened.'"
AFTER THE JUMP, watch a clip of Tiber's docu-comedy Woodstock: Ticket to Freedom.
Ang Lee, Focus trek to 'Woodstock' [hollywood reporter]
Ang Lee to make gay Woodstock film [msnbc]
The man who brought us Woodstock: Elliot Tiber [miami herald]
(image: jared lazarus, miami herald)