Cardinal Alfonso López Trujillo, who voiced the Vatican's opposition to same-sex marriage, abortion, contraception, and gay adoption, and spread false information about HIV prevention, died of cardiac arrest in Rome over the weekend.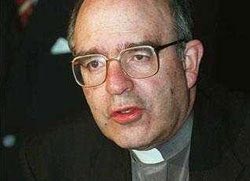 The NYT: "Cardinal Trujillo, a Colombian, served as president of the Pontifical Council for the Family. He often expressed views on sexual issues that stirred contention, most notably in 2003 when he said that condoms did not prevent the spread of AIDS because the virus that causes it, H.I.V., can 'easily pass through.' The World Health Organization quickly responded that condoms were 90 percent effective against transmission and that when they failed, it was usually because of improper use…In 2004, Cardinal Trujillo characterized a proposal in Spain to allow gay marriage as a 'sad step,' and when it was enacted the next year he urged civil officials to refuse to perform such marriages, even at the cost of their jobs."
In 2005, Trujillo said that adoption by gays was a "morally violent" act and destroys the future of children: "People say these children adopted by same sex couples are very happy. Maybe, when they are one or two years old. But when they are able to think for themselves, when they grow up, what a tragedy when they have to say 'my parents are two men, or two women'. Their personality, their stability is put at risk."
Trujillo was 72.