Lawrence J. Korb, Senior Fellow at the Center for American Progress and Assistant Secretary of Defense from 1981 to 1985, strongly criticized the Bush administration's policies in Iraq and Afghanistan with regard to the U.S. military and told the House Committee on Armed Services that not allowing gays and lesbians to serve is endangering troops and the military as a whole.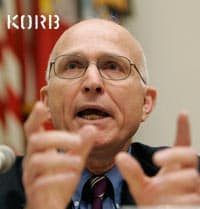 Said Korb:
"The Army and Marine Corps cannot afford to place unnecessary obstacles in the way of qualified men and women who want to serve. Over the past 10 years more than 10,000 personnel have been discharged as a result of ['Don't Ask, Don't Tell'], including 800 with skills deemed 'mission critical,' such as pilots, combat engineers, and linguists. These are the very job functions for which the military has experienced personnel shortfalls. General John M. Shalikashvili, the Chairman of the Joint Chiefs of Staff in 1993 when the 'don't ask, don't tell' policy was enacted, no longer supports the policy because he now believes that allowing gay men and women to serve openly in the military would no longer create intolerable tension among personnel and undermine cohesion. A recent Zogby poll supports this view. It found that three-quarters of Afghanistan and Iraq veterans were comfortable interacting with gay people."
Yesterday, Box Turtle Bulletin made note of the growing list of public servants who have publicly opposed the flawed "Don't Ask, Don't Tell" policy.
Reagan-era defense expert to House: Allow gays to serve openly in the military [pageoneq]