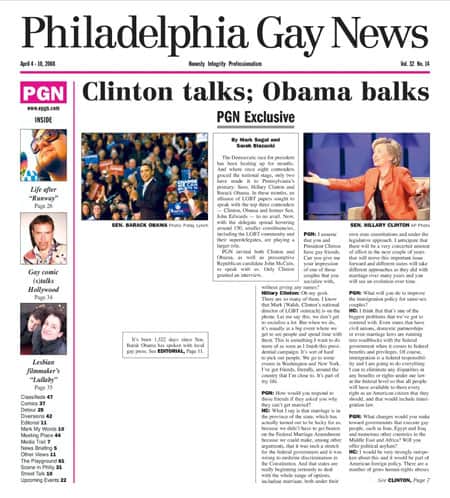 Fed up with the fact that Obama has not done an interview with local gay press in 1,522 days, the Philadelphia Gay News, which yesterday published a long interview with Hillary Clinton, made their point with a big white space in the paper today.

They even let a typo in his name go uncorrected.
The paper's publisher Mark Segal spoke to the Philadelphia Inquirer: "We had great success with the Clinton campaign. They were very open to us and inviting from day one. The surprise to us was the Obama campaign. When we realized we weren't getting very far with them, we decided to enlist other people — who are supporting Senator Obama — to assist us. These people happen to be some of his superdelegates and his strongest political supporter in the state: [U.S. Senator] Robert Casey and congressman Pat Murphy. All of whom advised him this was an interview he should do. We were told there had been scheduling problems. We've been told this now for weeks."
UPDATE: Segal neglected to disclose that he donated $1,000 to the Clinton campaign back in 2007.
Segal: Obama Hasn't Spoken to Gay Press Since 2004 [the daily examiner]