Bush thanks Pope Benedict XVI for an "awesome" speech. Approval rating at 28%.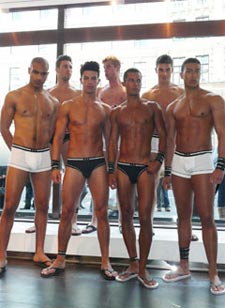 Armani Exchange holds London briefing.

Somebody is way too young to be flipping the bird. Did he learn it from his mother or his father?

Study: Same-sex marriage in Iowa would be a boont o the economy. "The Williams Institute at UCLA School of Law estimates that same-sex weddings and related tourism would lead to $160 million in spending over the next three years. The total economic activity related to same-sex marriage would give the state an extra $5.3 million per year in tax revenue, the study says."

Earthquake rocks Illinois: "A 5.4 earthquake that appeared to rival the strongest recorded in the region rocked people awake up to 350 miles away early Friday, surprising residents unaccustomed to such a powerful Midwest temblor. The quake just before 4:37 a.m. was centered 6 miles from West Salem, Ill., and 66 miles from Evansville, Ind. It was felt in such distant cities as Chicago, Cincinnati and Milwaukee, 350 miles north of the epicenter, but there were no early reports of injuries or significant damage."

Chace Crawford on his perfect companion: "I don't have any real guidelines for any particular girl. If they ring your bell, they ring your bell."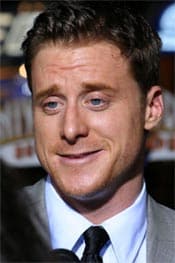 Alan Tudyk tapped for gay role in new pilot from Will & Grace creators Max Mutchnick and David Kohan that centers around the partnership between two writers, based on them. One is straight, one is gay.

University of Massachusetts hosts Drag Ball: "Students were decked out in their drag finest, men in wigs and gaudy prom-inspired eveningwear and women suited up with matching fedoras and suspenders. The Drag Ball kicked off with an entertaining introduction from host Envy Chanel, winner of Miss New England International Plus 2008. The feisty bundle of joy donned an outfit nothing short of noticeable. 'I bought you disco ball arms, Asians on the body, and slippery black boots," she playfully cooed.'"

LOGO claims broadcast of first gay-targeted High-Definition TV show.

Matthew McConaughey channels Jesus.


Rich of FourFour honors the best vagarm in history.

New writers colony sprouts in Provincetown, in Norman Mailer's old house: "Joan Didion, William Kennedy, Doris Kearns Goodwin and Gunter Grass have consented to be on the board. Four universities have expressed interest in partnering with the project. Mailer's third-floor studio, just as he left it, will be preserved as a museum. The home's four bedrooms will be used to house visiting distinguished writers and scholars. The first floor will be an area for lectures and conferences. Writers who are accepted will receive a stipend and be housed in other locations in town. There will be slots for writers of fiction and non-fiction, as well as those working on scripts for stage and film. Funds have already been pledged, and Schiller hopes the colony will be launched next year."

Domestic partners: Salt Lake City begins registration of gay couples.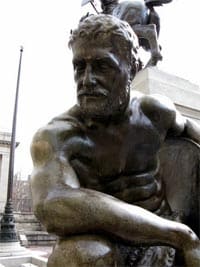 The Gay Recluse honors the smokin' hot statuary of Washington Heights in NYC.

Florida same-sex marriage foes kick off ballot initiative in West Palm Beach. Sidney Lanier, a retired Florida Highway Patrol officer: "The world that we grew up in is very different than the world we live in. Some changes have been good. But some things are never meant to change, because they define us as human beings."

Kylie Minogue's new video for "All I See" has been released – watch it.

Gay sperm donor loses bid for guardianship of his blood child, being raised by two lesbians: "Rejecting his claim yesterday, Mr Justice John Hedigan said the child's welfare was best served by remaining with the couple, and by the man in his forties having no guardianship or access to the infant. There was nothing in Irish law to suggest that a family of two women and a child had 'any lesser right to be recognised as a de facto family than a family composed of a man and woman unmarried to each other and a child'. The judge added that the rights of a man who acted as a sperm donor were no greater than those of an unmarried father. He had the right to apply to be appointed as a guardian, but no automatic right to appointment."