New York Magazine's Chris Rovzar lured Chace Crawford deep into the heart of Chelsea to dish about the real-life gossip and the new season of Gossip Girl, which returns tonight. According to Rovzar, Crawford is pretty much over all the fawning: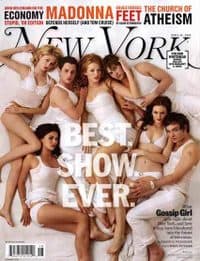 "After some haggling involving mentions of well-lit public places, Chace agreed to meet us for a chaste lunch at Chelsea's Empire Diner. When he walked in, wearing black Levi's skinny jeans and a Diesel hoodie that hit his slender wrists just so, the restaurant's flamboyant waiters shrieked and hugged him. They later said it was because he was a regular, but shrieks and hugs are a natural reaction to someone who looks like him. (We should know: By the end of our own conversation, our voices had gone up at least two octaves. Only Mariah Carey's dogs could hear us.) 'I like to hang out on the Lower East Side,' he said. Hence the skinny jeans. 'Don't try to get anywhere too quickly,' we joked shrilly, immediately loathing ourselves. The cool kids down on Rivington are nowhere near as sycophantic as us. 'Most of them don't even give a shit,' he said."
And if rumors are true, tonight's episode will feature the reveal of Gossip Girl's gay character.
The Genius of Gossip Girl [ny magazine]