Because they're gay. Disgusting: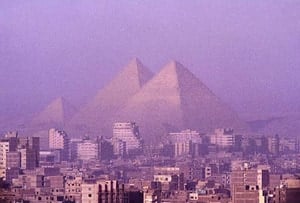 "An Egyptian judicial official says four HIV-positive men have been convicted of being homosexual and sentenced to three years in prison followed by three years of close police supervision. The official says on condition of anonymity because he is not authorized to speak to the press that a fifth man without HIV was also convicted and received the same sentence. The defense lawyer for the five, Adel Ramadan, says the judge convicted the men of the 'habitual practice of debauchery,' a term used in the Egyptian legal system to denote consensual homosexual acts."
Yesterday, I posted about reports that Egypt's recent crackdown on gays was an effort to out-moralize Islamists condemning the "perceived depravity" of Arab autocratic states. That article said that "Four of (nine men arrested) were sentenced to a year in prison for debauchery, a crime that Egyptian law defines as having sex for money or with a number of partners over an extended period. Five of the remaining eight face trial April 9 on the same charge even though they were found to be free of disease."
We now know the outcome of the other five cases.
Egypt sentences 4 HIV-positive men to 3 years in prison for 'debauchery' [iht]