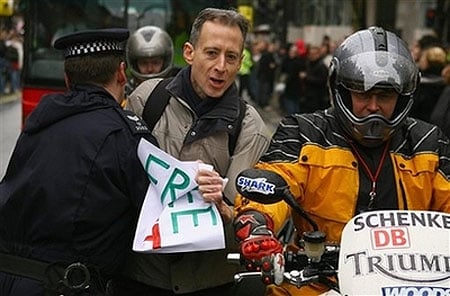 Gay activist Peter Tatchell was one of dozens detained in various protests over the weekend surrounding the transit of the Olympic flame through London, including one dramatic moment in which the torch was nearly snatched from the hands of television presenter Konnie Huq (see video, AFTER THE JUMP). There were 80 torch-bearers who carried the flame through London, from Wembley Stadium to Greenwich.
Gays Without Borders reports on the Tatchell arrest: "Mr Tatchell ran in front of the bus carrying the Olympic flame. He held up a placard which read: "Free Tibet, Free Hu Jia." He shouted the same words as he ran along in front of the bus. The police wrestled Mr Tatchell to the ground, which delayed the bus briefly while he was removed to pavement. After questioning, he was later released without charge."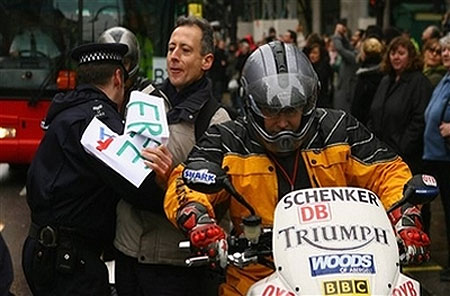 Said Tatchell,in a statement released later: "Hu Jia was jailed for three and half years in Beijing last week for campaigning for free speech, Tibetan autonomy, environmental protection, and for the human rights of the rural poor and people with HIV. Gordon Brown has shamed himself and Britain by greeting the Olympic torch at Downing Street, at a time when China is shooting dead Tibetan protesters and jailing and torturing hundreds of political prisoners. It is hypocritical for the Prime Minister to boycott the Zimbabwean regime, but not the dictatorial regime in China. These double standards bring our government into disrepute. The UK should not be colluding with a police state like China. Attempts to gently persuade the Beijing leaders to stop their human rights abuses have failed. They are manipulating the Olympics. We must not allow them to exploit the Beijing games to divert attention from China's abysmal human rights record. All countries that love freedom, democracy and liberty should refuse to host the Olympic torch and boycott the opening and closing ceremonies of the Beijing Olympics. Athletes should wear Tibetan flags during their events and on the podium when they collect their medals…"
Demonstrators across London wanted to make it clear that they will not tolerate China's human rights abuses as the summer Olympics in Beijing approach.
In all, 37 people were arrested over the course of the day. The flame is now in Paris, where it has been met with so much protest that it has been extinguished and put aboard a bus for its transit. According to Agence France Presse, "Paris's Socialist mayor Bertrand Delanoe planned to unfurl a giant banner over city hall in defence of human rights."
Watch the clip of the Olympic flame snatch attempt, AFTER THE JUMP…
37 held in Olympic torch protests [the press association]
Olympic torch ambushed in London [peter tatchell]
Pictures and videos: Olympic torch protests in London [shanghaist]
Protestors disrupt Olympic flame relay in Paris [afp]