A coalition of gay groups has urged Greg Totten, the District Attorney in the Lawrence King case to try Brandon McInerney, the troubled teen who shot and killed Lawrence King on February 12th in front of a classroom of students because he was gay, as a juvenile. Shortly after the murder, it was announced that McInerney would be tried as an adult.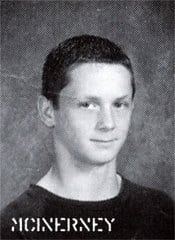 Said the coalition in a statement: "We are saddened and outraged by the murder of junior high school student Lawrence King. At the same time, we call on prosecutors not to compound this tragedy with another wrong. We call on them to treat the suspect as a juvenile, not as an adult. (The alleged perpetrator should) be held accountable for his actions. But we support the principles underlying our juvenile justice system that treat children differently than adults and provide greater hope and opportunity for rehabilitation."
The coalition of groups includes Lambda Legal, the National Center for Lesbian Rights and the Transgender Law Center, the American Civil Liberties Union of Southern California, Equality California, Gay Straight Alliance Network, Los Angeles Gay and Lesbian Center, and the National Gay and Lesbian Task Force.
The District Attorney's office has not responded. McInerney's arraignment is scheduled for May 8.
Coalition urging D.A. to try shooting suspect as juvenile [ventura county star]