Gay UK hip-hop artist Qboy was speaking out about being gay back in April 2004 when I first posted about him, but now he's involved with Excellence Centre Wales, "an organisation that gathers and shares excellence, information and good practice on equality and human rights as well as for lesbian, gay, bisexual and transgender (LGBT) people" according to 24Dash, to raise awareness and help prevent bullying in schools: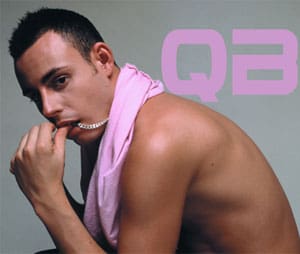 "Rising star, rapper and DJ, QBoy speaks about his own experiences of homophobic bullying at school in his tracks and is committed to raising awareness of the issue. He said: 'When being bullied as a teenager never did I imagine it would play such an important part of my dream career of being a performer. It feels good to turn my unhappy experience into something positive and hopefully help other people going through similar experiences. 'I applaud the schools who are actively trying to combat and deal with the homophobia that is so evident in today's classrooms and playgrounds. Homophobia doesn't just affect those who are gay or perceived to be gay, it affects all of us and it is a problem we all need to help resolve. In the end, every one of us strives to live in a society which is happy and accepting of one another.'"
The group is doing its work in Cardiff, Wales, but it's certainly a message that would translate over here.
Gay rapper Qboy takes anti-homophobia message to Cardiff schools [24dash]
Previously
Qboy: homosexual hip-hop [tr]