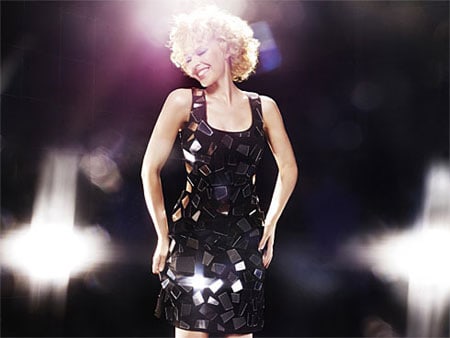 Robbie Daw presents a weekly pop music update here on Towleroad! Robbie runs his own site called Chart Rigger.
Between R.E.M., George Michael and Kylie Minogue, it's a gay ol' week as far as new music releases. Kylie's X finally officially drops in the U.S. today, after making a brief three-week appearance on iTunes back in February.
Australia's "singing budgie" is doing stateside promotion all week for X — including performances of new single "All I See" tonight on Dancing With The Stars, tomorrow on the Late Late Show With Craig Ferguson and then Thursday on Ellen — and yesterday she sat down for an interview with the Today Show's Matt Lauer.
During their chat, Kylie responded to rumors that she'll soon marry French actor Olivier Martinez, tried to explain her elusive chart success in America and instructed Lauer on how he'll have to greet her once she's awarded the OBE (Order of the British Empire) this summer by the Queen of England.
The U.S. version of X contains an extra mix of "All I See," featuring rapper Mims.

SEEING DOUBLE: The pixelated cover of Jesse McCartney's new album Departure, due out May 20, might evoke some "rude" thoughts from Robbie Williams.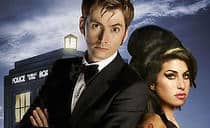 Amy Winehouse to appear alongside David Tennant on Dr. Who? April Fool's!

Following suit with Madonna, U2 have signed a 12-year deal with concert promoting firm Live Nation, though Universal will continue to distribute the Irish band's actual music. Says Bono of Live Nation, who has managed U2's tours for three decades: "We've been dating for over 20 years now. It's about time we tied the knot."

U.K. gossip site Digital Spy finds Beyoncé, Limp Bizkit, Sugababes, Steps, Fiona Apple, Blink 182 and Michael Jackson all have one thing in common: they've got the worst album titles of our times.

Think you've got what it takes to remix Radiohead? Five separate tracks from their new single "Nude" are up for purchase on iTunes, and buyers are encouraged to create and upload their own GarageBand creation to Radioheadremix.com. Net surfers have to May 1 to vote for their favorite mix on the site.

Fall Out Boy's plan to gig on every continent within two weeks falls apart. FOB frontman Pete Wentz: "It's an utter disappointment… I read [on the MTV Newsroom blog] someone compared it to Geraldo opening Capone's vault, but it's worse than that, because, like, Capone's stuff is in there, you just can't get the light on. There's no spin for it; we got two hours away from Antarctica and we can't go."

POP BLOG WATCH: Miss feeling like a clove-smoking, coffee-drinking teenage girl running rampant in the record store? Hit up Eurovision- and Swede-obsessed Poster Girl.
George Michael's Twenty Five, a two-disc collection of various hits — including four from Wham! — and six songs previously unreleased in the U.S. The deluxe edition contains Michael's music videos.
R.E.M.'s 14th album Accelerate, produced by Jacknife Lee.
Moby's Last Night, which finds him returning to his dance roots.
A Town And Two Cities, the debut from British alt rockers Your Vegas. They also have a line of fashion accessories coming to U.S. Bloomingdale's.
Van Morrison's Keep It Simple, his 33rd studio album, and first since 1999.
Attack & Release, from Akron, Ohio blues-rock duo The Black Keys.