On Thursday, Adrian Figuera, 38, and actor and theater director Juan Carlos Moretti, 67, were married in Montevideo, Uruguay in Latin America's first same-sex wedding.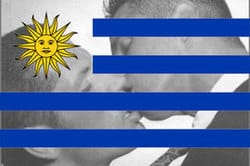 Agence France Presse reports: "Moretti later told AFP that after living together for 14 years, he and Figuera thought their marriage was 'a matter of justice and a step forward for Uruguayan society.' The so-called 'cohabitation union law' went into effect on January 1, allowing heterosexual and homosexual couples living together for at least five years to receive the same legal rights and benefits that traditional marriage bestows."
Last December, Uruguayan President Tabare Vazquez signed Latin America's first nationwide same-sex civil union law. It went into effect on January 1.