Lance Bass has recorded a PSA to raise awareness about the 11th annual Day of Silence one week from today on April 25, when students across the nation will take a vow of silence to protest bullying, harassment and discrimination in schools.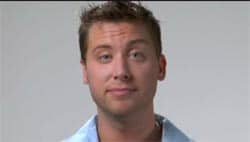 This year's 'Day of Silence' is dedicated to the memory of Lawrence King.
Says Bass in the PSA, for GLSEN (Gay, Lesbian & Straight Education Network): "Everyday, thousands of students are silenced. They're silenced by fear, they're silenced for being who they are. … They're brothers, they're sisters, they're gay, they're straight, they're you, they're me."
AFTER THE JUMP, watch a short segment about the making of the PSA in which Bass talks about his life in the closet with N'Sync and why he's speaking out.