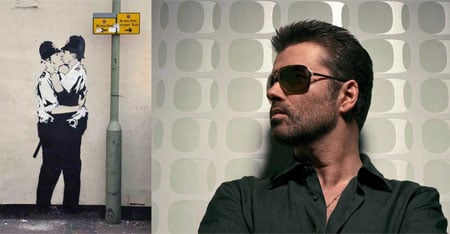 George Michael has reportedly asked secretive graffiti artist Banksy to target one of the walls of his North London home.
The UK Mirror tab reports: "The "Careless Whisper" singer has already spent £400,000 on two huge canvasses by the mysterious artist – but he now wants to see the master in action, and is willing to pay £2 million. We're told: 'George is a huge fan of Banksy's work and asked his representative if he would reveal himself to the singer. He also asked if Banksy would paint one wall in his house for £2million. Apparently, Banksy has insisted on remaining undercover and will only go ahead if George goes out for the duration! 'The pair are in discussions over how to organise things.'"
Michael is about to start a summer U.S. tour.
Previously
George Michael Announces Summer U.S. Tour [tr]
Nurse's Sexual Advances Toward George Michael Prove Unsuccessful [tr]
George Michael Talks Worms, Weed, and Amy Winehouse [tr]
George Michael's Wallet Feels "Exquisite Pain" with Hirst Purchase [tr]