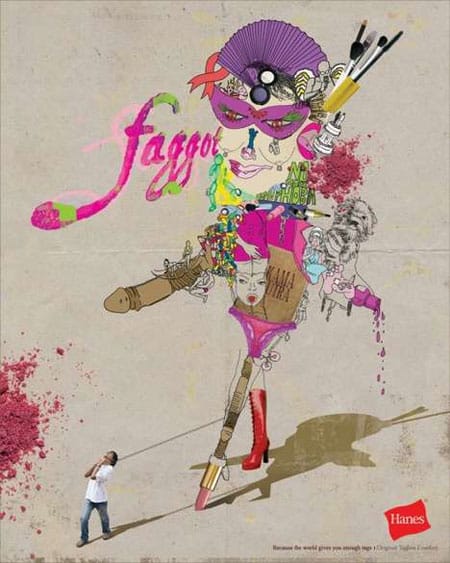 Via Joe.My.God comes this image of a new ad from Hanes, promoting their tagless underwear with the tagline "Because the World Gives You Enough Labels". The ad features a man dragging a stereotype- and slur-laden character. Joe reports that the ad was created by the Bombay division of McCann Erickson, so it's unlikely to appear in American markets.
With a little digging I was able to find two other ads in the campaign, via Trendhunter. They write: "In Fagg*t, you see same-sex kissing, debauchery, toys, bottles of wine and references to beauty: lipstick, nail polish and makeup. In Nigg*r, you see drugs, guns, jail cells, low-life jobs like cleaning toilets, and text about being HIV positive. In Pak! (a demeaning name for people from Pakistan), you see tanks, bullets, bombs and pigs (an anti-Islamic reference)."
Check out the other two ads AFTER THE JUMP. Effective, or just offensive?
Hanes' "Lipstick" Campaign [joe.my.god]