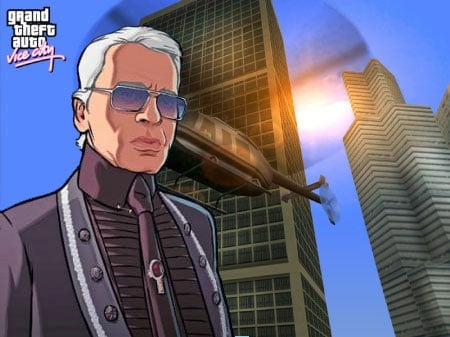 More Lagerfeld news. The designer/photographer will soon be pixellated.
PSFK reports: "It's just been announced that the designer will be playing a role in the newest installment of Grand Theft Auto, where he'll DJ on air at the game's K109 The Studio station."
Rockstar Games released the caricature above (I added the background).
According to WWD: "Players can pick from multiple radio stations for the soundtrack, ranging from licensed songs to new ones. Lagerfeld picked his favorite electronica and dance music and peppered the selection with some of his rapid-fire commentary. 'They had written a politically incorrect dialogue,' the designer said. 'I loved it, [particularly] in a time when everybody wants to be so politically correct when they talk.' He didn't have to dig too deep to find his music selection. 'Music is part of the life of fashion, too,' he said. 'Through the famous sound stylist Michel Gaubert, I'm very much 'au courant' and know what's going on.'"
Previously
Karl Lagerfeld Has a Diet Coke Butler [tr]
Lagerfeld Vulnerable as Bodyguard Models Happy Feet Togs [tr]