Republican Louisiana Senator David Vitter, who has been called on to testify in the D.C. Madam case, is being urged by Idaho Senator Larry Craig not to resign, but to continue to operate by going into an obscene state of denial if he happens to see himself on the television news: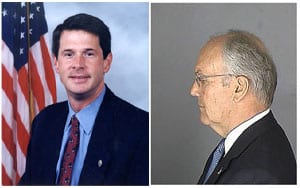 Said Craig: "First and foremost, in these kinds of issues, it's the state and the relationship you have with your state that really determines where you ought to go. That was certainly my case. The Senate itself wasn't going to judge me. I would allow the citizens of my state to do so. And there is still strong support there…My story became a situation where my wife and I watched it almost as if it were caricatures out there being talked about. It certainly wasn't me, but that was quite typical in a 24/7 news cycle like we have today."
The Louisiana Democratic party has called for Vitter's resignation, but Vitter himself has chosen to remain quite silent on his connection with the prostitution ring.