Jacob Reitan of Soulforce, which visited Messiah College last year on its Equality Ride (one year to the day of the candidates' upcoming forum), writes in the Huffington Post: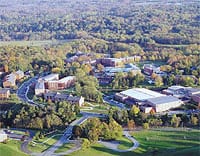 "This Sunday, Senators Clinton and Obama will be taking part in something called the 'Compassion Forum' at Messiah College in Pennsylvania. Ironically, Messiah College has a severe lack of compassion towards its LGBT students. The school's community covenant prohibits 'homosexual behavior' and effectively bans LGBT students who are open and self affirming from attending Messiah…
"…In spite of our visit last year to Messiah College, their discriminatory policies are still in place. This brings into question why Senators Obama and Clinton would agree to discuss compassion in this setting. Both Clinton and Obama speak about uniting America and both speak against the politics of fear and division. It also calls into question the judgment of John Podesta's Center for American Progress' Faith in Public Life program. Why would they select a college where gay people are not welcome to hold a discussion on issues of compassion? There are plenty of faith-based colleges to choose from. I attend one. I am a second year Masters of Theological Studies student at Harvard Divinity School."
Reitan asks: "Will they speak out against the Messiah's policy that would bar me and countless other Americans from attending the school? Will they make clear to the American people that LGBT people are wonderfully made in the image of the Creator and loved as they are by the Creator without reservation?"
We shall see if either will rise to the occasion.
previously
Soulforce Trip Continues as Arrests Made at Bob Jones University [tr]
Soulforce Bus Defaced with Gay Slurs in Iowa [tr]