His association with a gay friend, according to Scientologists. Actor Jason Beghe, whose video denouncing Scientology hit the internet recently, gave an interview to the Village Voice earlier this month which sheds some light on the cult's relationship with homosexuality: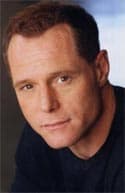 "Beghe says the proof that Scientology was no longer working for him came when he was almost killed in a car accident. After the L's, he points out, that shouldn't happen. 'A clear isn't supposed to have a car accident. You're supposed to be practically immortal.' To the Scientologists, the accident was an indication that someone was 'suppressing' Beghe. So they pulled him in for more interrogation. 'What about this gay person you're friends with,' Beghe says one official asked him, implying that somehow the gay friend was causing Beghe's clear state to be sabotaged. When Beghe objected, he says the official responded, 'Well, he's gay.'"
That video, if you haven't seen it, AFTER THE JUMP…
UPDATE: The reason this video is not accessible is because last night Scientology was apparently successful in having the account that was hosting it cancelled.
Jason Beghe: Scientologist Feared a Gay Friend Caused My Car Crash [runnin' scared]
Scientology's First Celebrity Defector Reveals Church Secrets [village voice]