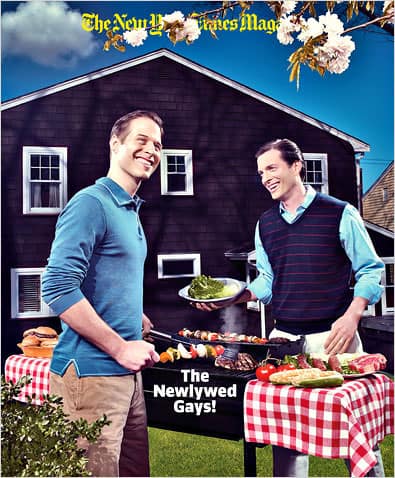 The New York Times published a major Sunday magazine piece on the new crop of young, 20-something newlyweds that Massachusetts' marriage laws have spawned. Here's a bit of it: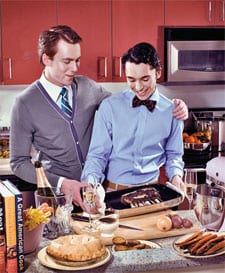 "Most of the couples insisted they shared those responsibilities in 'an egalitarian way.' While Joshua occasionally referred to himself as a 'gay housewife,' other young gay married men bristled at the notion that they would fashion their domestic lives around heterosexual stereotypes.
"'It never ceases to amaze me how many people will say to us, 'So, who's the woman, and who's the man, in your marriage?'' says Jason Shumaker, who lives in a Boston suburb with his husband, Paul McLoughlin II, who is an assistant dean at Harvard. They met eight years ago when they were 25, and they legally married at 29 (registering to wed on the first day gay couples could do so in Massachusetts). 'I just think that's the dumbest question ever,' he added. 'Yes, we're married, but we're also two guys, so neither one of us has to be 'the woman.'' (And 'with no ovaries drying up,' as Paul put it, they don't need to rush into having children. They plan to adopt in the next five years, once Paul finishes his Ph.D. in higher-education administration at Boston College.)
"During a break from opening the door to trick-or-treaters at their home last Halloween, Jason and Paul — who wore matching lizard outfits — told me about the T-shirts they'd donned at the end of their reception. The front of Paul's shirt read, 'I Am the Husband,' while the back read, 'I Am the Wife.' (Jason's shirt had the opposite emblazoned on each side.) 'It was fun to make a little bit of a social statement and poke fun at the idea that we would fit neatly into these heterosexual roles,' Jason said."
I think just about anyone who has been in a gay relationship has experienced the curiosity of straight friends as to 'who's the husband, who's the wife?' As for the 50's photos of domestic bliss, I've yet to come across anything that idyllic among any couples I know. But it's not a bad thing to dream.
Young Gay Rites [nyt]