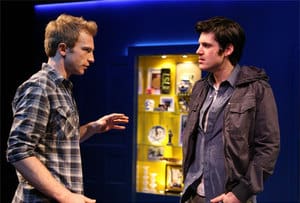 In fact, The Manhattan Theatre Club's production of The Four of Us by Itamar Moses, the more accomplished of the two plays, is about what happens to two close friends when one's book is bought for two million dollars and made into a movie while the other continues to struggle as a playwright. It is a lovely two-hander beautifully acted by Gideon Banner, as the more financially successful of the two, and Michael Esper. It takes on a rather Pirandello-like quality toward the end of the intermissionless evening that proves Moses is as clever as his characters are. He is certainly as talented as he leads us to believe each of them is. Pam MacKinnon is the play's ingenious director who has elicited the affectingly naturalistic performances from her two actors to counterbalance the direction's and the play's ingeniousness. It's well worth the visit.
T T 1/2 (out of 4 possible T's)
The Four of Us, Manhattan Theatre Club at New York City Center, 131 West 55th Street, New York. Ticket information here.
***THE DRUNKEN CITY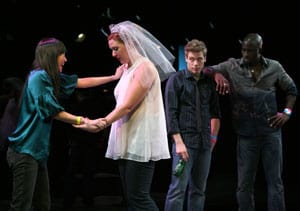 The other play is The Drunken City by Adam Bock at Playwrights Horizons' Peter Sharp Theatre on 42nd Street. It concerns a girls-night-out in order to celebrate an upcoming marriage of one of them and what transpires when Manhattan — a monstrously beguiling place, according to Bock, with the emphasis on the monstrous — sinks its teeth into them. There is real heart in the sitcom body of the play, most of it found in the performance of Cassie Beck as Melissa, the betrothed, and Alfredo Narcisco, who plays Bob, the gay ex-marine baker for whom the young women work. Bob's interest in Eddie, portrayed by Barrett Foa, who was so good in Avenue Q, is the true romantic spark that flickers on the edges of the play until it ignites in a long kiss between the two at the play's end that seems to signal the deep need that all the characters have for a true connection. A sweet play sweetly directed by Trip Cullman. But a slight one.
T 1/2 (out of 4 possible T's)
The Drunken City, Playwrights Horizons' Peter Sharp Theatre, 416 West 42nd Street
New York. Ticket information here.
Recent Reviews
On the Stage: Cat on a Hot Tin Roof, Adding Machine, Parlour Song [tr]
On the Stage: Crimes of the Heart, Sunday in the Park with George, and November [tr]
On the Stage: Come Back, Little Sheba and Next to Normal [tr]
On the Stage: The 39 Steps and Almost an Evening [tr]
On the Stage: Is He Dead? and The Little Mermaid [tr]