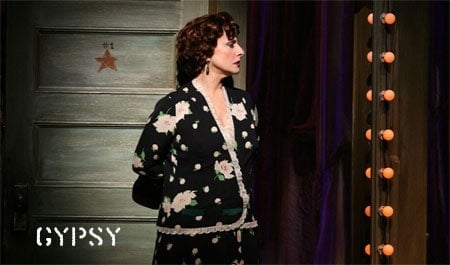 Kevin Sessums last reviewed Cat on a Hot Tin Roof, Adding Machine, and Parlour Song for Towleroad. You can also catch up with Kevin online at his own blog at MississippiSissy.com.
Okay. Let's get the adjectives out of the way. Stunning. Amazing. Legendary. Mermanesque.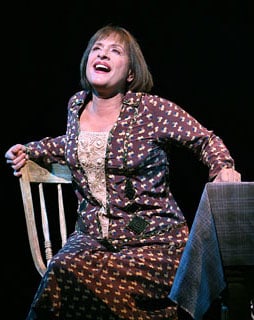 Yep. I'm describing Patti LuPone's performance as Mama Rose in Arthur Laurents' latest production of Gypsy, which is arguably the greatest American musical ever written. Its book is by Laurents. Its score is by Jule Styne, who wrote the music when the show's lyricist, a 29-year-old Stephen Sondheim, was considered a bit too green to be trusted to take on the duties of composer by the show's star, Ethel Merman, when its original choreographer and director, Jerome Robbins, had offered him both roles after Cole Porter and Irving Berlin turned Robbins down. Miffed, Sondheim had decided not to do the lyrics alone until his mentor, Oscar Hammerstein, convinced him how important his contribution would be to the show. Some even insist the lyrics are the best that Sondheim has ever written. Laurents, who will be 90 in July, directed an earlier version of this production this past summer as part of City Center's Encore series and, deepening it on many levels (especially LuPone's performance), has now moved it to the St. James Theatre on Broadway.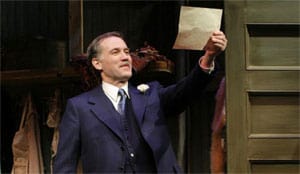 I say Gypsy is arguably the greatest American musical because when it first opened in 1959 at the Broadway Theatre it was slighted by audiences and some critics and most awards ceremonies. Indeed, the original production did not win a single Tony award. It lost the Best Musical Tony in 1960 to both The Sound of Music and Fiorello!, which tied for the honor. Other nominees were Take Me Along and Once Upon a Mattress. Mary Martin as Maria in The Sound of Music beat Ethel Merman as Best Actress in a Musical. George Abbott won Best Director in the Musical category for Fiorello!, besting Robbins. Robbins wasn't even nominated as Best Choreographer; the winner in that category was Michael Kidd for Destry Rides Again. For you trivia buffs: John Kander of Kander and Ebb was the rehearsal pianist for the original production and helped arrange the music for the dance numbers for which Robbins failed to be nominated.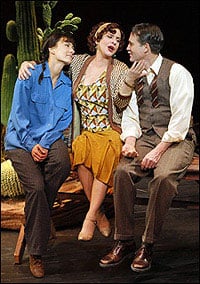 An older downstairs neighbor of mine remembered his high school days in Brooklyn when I told him I'd just seen this latest production of Gypsy and we began to reminisce about all the previous ones we'd each seen. One of the first Broadway productions I ever saw when I first moved to Manhattan in 1974 was a production starring Angela Lansbury, which was also directed by Laurents. I also saw Tyne Daly in the role. (Both Lansbury and Daly did win the Tony for their portrayals.) I saw Linda Lavin. And Bernadette Peters. I even saw Peters' understudy, Maureen Moore, who made her Broadway debut as Dainty June in that 1974 Lansbury production at the Winter Garden. Peters herself played Baby June in a touring production of the show in which Merman starred when the initial Broadway production closed after 704 performances at the Imperial Theatre where it had moved after its opening at the Broadway. I missed Betty Buckley's acclaimed performance at the Paper Mill Playhouse a couple of years ago. And I wish I had missed Bette Midler's terribly over-the-top television take on the role. I kept wishing I had a back row balcony seat in my living room the whole time I watched her since that was how she was pitching the part.
"Honey, I saw Merman do it about ten times," my downstairs neighbor said. "All the faggy high school boys around the city like me back then would cut class on Wednesday afternoons and converge on the Imperial Theatre and second act Gypsy so we could watch Merman do 'Rose's Turn.' People in New York back then didn't like that show. It was too hard and cynical for them. But when you're a gay-boy-aborning you eat that stuff up. There were a lot of first dates being made up in the balcony of the Imperial during the second act of Wednesday matinees of Gypsy in 1959 and 1960. The place was teeming with teenage gay boys playing hooky."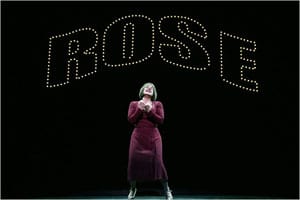 Gay boys of this generation don't have to skip school to furtively make dates during Gypsy, but they would still be remiss if they don't catch LuPone, this generation's Merman, giving a performance that we'll all be talking about to our own younger neighbors in years to come. Frank Rich, in his old job as theater critic at the New York Times, has compared Mama Rose to King Lear and LuPone is downright Shakespearean in the dramatic shadings she brings to her rendition of 'Rose's Turn,' the noted, literally so, climactic nervous breakdown of the show's second act. Laurents has reined in LuPone earlier in the show so she has someplace to go emotionally in the role and it pays off brilliantly. This is the most fully acted Mama Rose I've ever seen. LuPone still swoops up on many of her high notes and is the only singer I know who can slur a consonant, but the performance is otherwise so carefully calibrated her vocal idiosyncrasies seem to be created anew for Mama Rose herself.
Boyd Gaines, as Herbie, Rose's love interest, is the first fully realized Herbie I've seen as well. For the first time you believe that the relationship the two are having is as carnal as it is caring and symbiotic. And Laura Benanti, who matures beautifully and hauntingly, into stripper Gypsy Rose Lee, the memoirist on whom the musical is based, measures up to Gaines and LuPone. These are three of the best musical performances I've seen in a very long time.
The show's original title is Gypsy: A Musical Fable. This production — perhaps theatre great Arthur Laurents's valedictory one — is destined to be a fabled one. Do not miss it.
T T T T (out of 4 possible T's)
Gypsy, The St. James Theatre, 246 West 44th Street, New York. Ticket information here.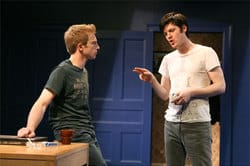 ***THE FOUR OF US
I recently attended the Tennessee Williams Literary Festival down in New Orleans to appear on a couple of panels. I sat in the audience for several others, including one with playwright Terrence McNally who blamed the expense of real estate in New York for the dearth of young playwrights now in the city. Yet, rents be damned, some still are able to make their way here. Two recent plays are by two rather prolific young writers who haven't been scooped up by Hollywood.
Continued, AFTER THE JUMP…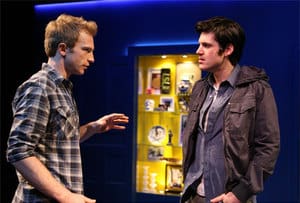 In fact, The Manhattan Theatre Club's production of The Four of Us by Itamar Moses, the more accomplished of the two plays, is about what happens to two close friends when one's book is bought for two million dollars and made into a movie while the other continues to struggle as a playwright. It is a lovely two-hander beautifully acted by Gideon Banner, as the more financially successful of the two, and Michael Esper. It takes on a rather Pirandello-like quality toward the end of the intermissionless evening that proves Moses is as clever as his characters are. He is certainly as talented as he leads us to believe each of them is. Pam MacKinnon is the play's ingenious director who has elicited the affectingly naturalistic performances from her two actors to counterbalance the direction's and the play's ingeniousness. It's well worth the visit.
T T 1/2 (out of 4 possible T's)
The Four of Us, Manhattan Theatre Club at New York City Center, 131 West 55th Street, New York. Ticket information here.
***THE DRUNKEN CITY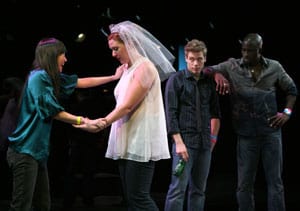 The other play is The Drunken City by Adam Bock at Playwrights Horizons' Peter Sharp Theatre on 42nd Street. It concerns a girls-night-out in order to celebrate an upcoming marriage of one of them and what transpires when Manhattan — a monstrously beguiling place, according to Bock, with the emphasis on the monstrous — sinks its teeth into them. There is real heart in the sitcom body of the play, most of it found in the performance of Cassie Beck as Melissa, the betrothed, and Alfredo Narcisco, who plays Bob, the gay ex-marine baker for whom the young women work. Bob's interest in Eddie, portrayed by Barrett Foa, who was so good in Avenue Q, is the true romantic spark that flickers on the edges of the play until it ignites in a long kiss between the two at the play's end that seems to signal the deep need that all the characters have for a true connection. A sweet play sweetly directed by Trip Cullman. But a slight one.
T 1/2 (out of 4 possible T's)
The Drunken City, Playwrights Horizons' Peter Sharp Theatre, 416 West 42nd Street
New York. Ticket information here.
Recent Reviews
On the Stage: Cat on a Hot Tin Roof, Adding Machine, Parlour Song [tr]
On the Stage: Crimes of the Heart, Sunday in the Park with George, and November [tr]
On the Stage: Come Back, Little Sheba and Next to Normal [tr]
On the Stage: The 39 Steps and Almost an Evening [tr]
On the Stage: Is He Dead? and The Little Mermaid [tr]