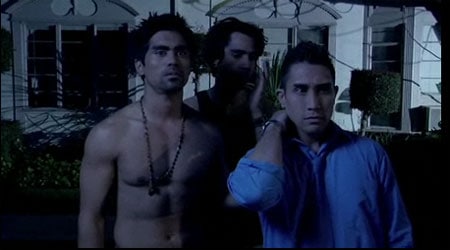 The second episode of In the Moment, the gay online soap opera produced by the L.A. Gay & Lesbian Center in an effort to generate discussion about AIDS prevention and other sex-related health issues, debuted online today. They've also enhanced their site to make it more interactive.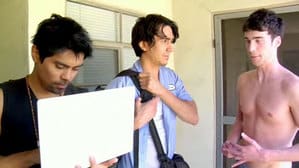 Director and co-creator, Dave O'Brien explains the premise behind the online advocacy series: "Young people live their lives online. We're trying to influence the YouTube generation, so it just makes sense for us to reach them this way. And with the premier of the second episode, we've expanded the opportunities for visitors to the site to interact with each other. Now they can create their own profile, interact with other users directly, start new discussion threads, and post video comments. The beauty of this campaign is that it reaches anyone with a computer, anywhere, enabling people to engage anonymously if they prefer."
The first episode, which has been viewed over 30,000 times, dealt with drinking, online sex addiction, and unprotected sex. The second episode expands on those storylines with questions about honesty in relationships where the partners have had unprotected sex with others.
Said Alton Carswell, program manager for the Center's WeHoLife.org HIV prevention program: "We're portraying these provocative situations to stimulate dialogue and because they're real world issues some young gay men face. By getting people to think about and discuss these issues in advance, we hope they'll make better decisions should they face a similar situation. Obviously we aren't suggesting all these issues are common to gay men in general."
Watch the new episode, AFTER THE JUMP…

Find more videos like this on In The Moment
Comment on the episode, and visit the site here.
Previously
AIDS Prevention Web Soap and Forum Launched for Gay Men in L.A. [tr]