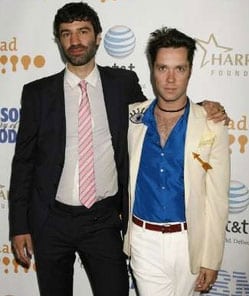 Rufus Wainwright, who was presented with GLAAD's Stephen F. Kolzak Award (named for the late casting director and given to an openly gay member of the entertainment or media community for his or her work toward eliminating homophobia) at the GLAAD Media Awards in Los Angeles over the weekend, told Variety about his next project, Prima Donna, an opera which focuses on a day in the life of an opera diva.
Said Wainwright: "I've written songs for so many years that it's basically become a bodily function. There's nothing glamorous about it whatsoever. I've wanted to write an opera since I was about 14 years old, but I couldn't find a story that I could wrap my head around. (Inspiration came from my fascination with) the construct of the diva, from Maria Callas to Norma Desmond and the (Jean-Jacques Beineix) movie 'Diva' from the '80s. And God darn it, there's a bit of me in that too. Once the lights go down, it all kind of boils down to the same thing. It just has to be good."
Wainwright (pictured here with his partner, German arts administrator Jorn Weisbrodt, at the GLAAD awards) will function "as both composer and librettist (in French)" for the work, which was commissioned by the Metropolitan Opera.