The UK Border Agency has reportedly offered a gay teen Syrian seeking asylum in Scotland less than $100 (£46) to get him to accept deportation and return to Syria, the Scotsman reports: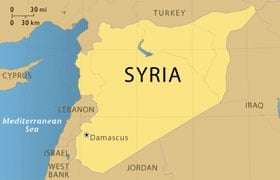 "Jojo Jako Yakob, 19, fled his homeland two years ago after being arrested, shot and beaten before being tortured in a Syrian jail when he was caught distributing anti-government leaflets. Once prison guards discovered that Yakob, a Christian member of the repressed Kurdish minority in the Arab state, was homosexual, he suffered horrific beatings and was assaulted so badly that he slipped into a coma. He fled to Scotland but his application seeking asylum was rejected and the Home Office has ordered his return to Syria, where homosexuality has been banned. Last night, 'Save Jojo' campaigners criticised the UK Border Agency for sending Yakob, who is currently being detained at Polmont Young Offenders Institution in Falkirk, a 'weekly' letter, asking his permission to be 'repatriated' back to Syria. A spokesman for the campaign said the agency has offered Jojo £46 'in cash' on leaving the United Kingdom 'to assist you in reintegrating into your home country. This could be used for example to set up a business, further your education or assist with housing'. Leading gay rights campaigner Peter Tatchell labelled the UK Border Agency as 'immoral' in its attempt to get Jojo into accepting deportation. He said: 'This insulting offer shows the scurrilous, immoral nature of the UK Border Agency. The sum of £46 would barely pay one week's rent, never mind help Jojo start a new life. The idea that he should risk his life and go back to Syria for £46 is an absolute disgrace. It shows the depth to which the Labour Government is sinking in its desperate bid to pander to racist and xenophobic opinion.'"
Yakob's case is similar to that of Iranian teen Mehdi Kazemi, who was granted a temporary reprieve from deportation when public outcry in late March brought attention to his case.
Government offers Jojo £46 to go home [scotsman]