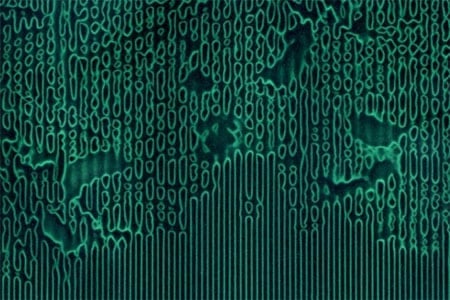 In this week's tech news, Jon Barrett looks at magnetic field masterpieces, interactive holograms, airline seating that you'll be looking forward to, Beauty and the Geek jeans, and test tube turkey.

Flint Weisser, a Pratt student from my hometown of Boise, has created a series of drawings by capturing the complex interactions of magnetic fields. As Wired.com's Alexis Madrigal explains: "Each piece consists of magnets bolted to steel plates and covered with a thin film of nickel particles sandwiched in plastic. The nickel particles act like iron filings to align themselves to the magnets' fields." Not sure I get it, but the result is pretty amazing. See more of Weisser's work here. Or see it in person.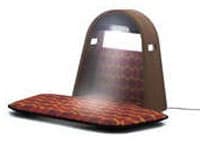 Fresh on the paws of the fauna sauna (which is supposed to heal your pet's arthritis with infrared heat) comes the SunSpa, a product that claims to control Fido's mood swings by stimulating sunlight. Reports Crave: "The 150-watt light keeps the bed at a toasty 80 to 85 degrees while promising to last 5,000 hours. The bed itself is covered with "Crypton Fabric" that is odor- and water-resistant, two qualities that would probably improve any pet's disposition with or without light."

If you're fed up with the cell phone options out there, here's your chance to create one of your own design—and to pocket a little cash while you're at it. LG is throwing an innovation challenge and asking average Joes to come up with designs for the "dream phone." But if the pretty weak prizes don't deter you—the winner gets a 52-inch screen TV and $10,000—the deadline probably will; all entries must be in by April 30.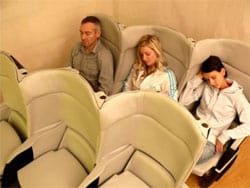 In what could quite simply be one of the best creations of the 21st century, next to the iPhone anyway, Delta is planning to introduce new "Cozy Suite" seats in the economy section of its Boeing 777 and 767 fleet by 2010. Says Gizmodo: "The major feature of the design is a staggered layout that increases privacy while simultaneously creating a space for weary travelers to rest their heads. It also allows passengers to enjoy 31 inches of leg room (two inches better than the competition) and the ability tot recline without disturbing the people behind them."

The next chapter in the ongoing saga of the much-rumored 3G iPhone: The Times Online in the UK quoted an unnamed source as saying that the upcoming device will have a "radically different" appearance than the current iPhone. Two apparent possibilities are a clamshell and a slider with a hardware QWERTY keyboard. Seems a little too standard for Apple, though, no?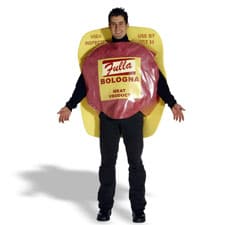 I guess Garden Burgers are no longer good enough. PETA announced this week that it would offer $1 million to the "first person to come up with a method to produce commercially viable quantities of in vitro meat at competitive prices by 2012." To win, the contestant must also produce a product that has a taste and texture indistinguishable from real chicken flesh to non-meat-eaters and meat-eaters alike.
(Image via Gizmodo)

The Centers Disease Control confirmed a piece of news that a few of my friend friends can attest (Henry? Helen?). This year's flu season was the worst in recent history. And worse: The flu vaccine didn't really work.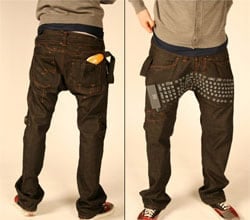 And for today's "clever concept that could get you in trouble at airport security": Beauty and the Geek Jeans. Essentially, it's everything you need to work your computer–on the front of your pants. In addition to the keyboard, it includes speakers built into the knees, a pocket for mouse storage, and (ahem) a joystick controller behind the zipper.

In honor of Earth Day, Lifehacker put together a list of easy ways to go green with your computer.

In case you're still itching to get your hands on a Kindle, they're finally back in stock on Amazon. Honestly, though, mine's been collecting dust on my nightstand. Every time I try to buy a book, it's not yet available for the Kindle.

Help me, Obi-Wan Kenobi, you're my only hope. An interactive hologram that responds to gestures.