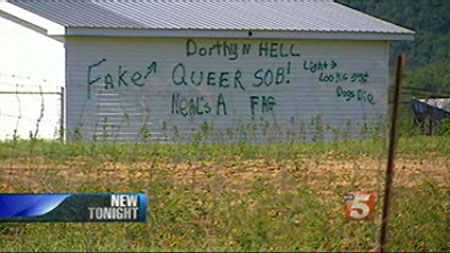 You may remember the threats against McMinnville, Tennessee resident Neal Anthony I posted about beginning in April of 2007. At that time, Anthony's property had been the target of a paintball attack committed by three teens who said they did it because Anthony is gay. The paintball incident preceded by days an incident in which graffiti that said "all gays go to hell" and "fags deserve to die" was tagged on the sides of buildings on the property. Then, a month later, another graffiti incident.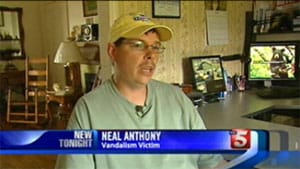 In June, the graffiti tagging continued, this time with death threats against Anthony.
So Anthony bought $10,000 of surveillance equipment and spent $80,000 fixing up the home, he says. But the attacks continue:
"Vandals sprayed and splattered hate-filled words on his property Friday morning. Anthony said it's because of his sexuality. 'I'm not out there in my yard running naked, or being with my partner doing all these sex acts or anything like that,' said Anthony. Virtually every square foot of the property is within camera range, but this spray paint assault went undetected. The vandals cut the lines to Anthony's cameras, security lights, landscape lights and even severed power to the main house and his phone line. Anthony said this is the ninth assault on his property and he fears the attack might escalate from personal possessions to people. The suspected vandals also spray painted 'Dorothy's in Hell' referring to Neal's mother, who passed away in December."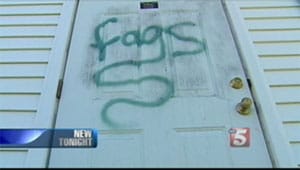 The Tennessee Equality Project has stepped in to assist. It was reported that they had also stepped in to help over the last incident, along with the ACLU. It's unclear what transpired at that point, but hopefully they can do some good this time.
The sheriff's office meanwhile, doesn't appear to have an interest in Anthony's problems. Meanwhile, Anthony pleads: "People need to know what's going on up here in Warren County. I need help. I need for this to stop. . .I'm living in fear of my life."
Repeat Hate Crime Victim Seeks Relief [newschannel 5] (VIDEO)
GAY HATE [out and about]
Previously
Threats Against Rural Gay Tennessee Man Continue [tr]
Anti-gay Threats Against Rural Tennessee Man Continue [tr]
Tennessee Teens Charged with Hate Crime for Vandalism [tr]