New York high court refuses to strike down state's recognition of out-of-state same-sex marriage: "The Court of Appeals declined yesterday to review the mid-level appellate court's decision to recognize the couple's Canadian marriage, the first such ruling by an appellate court in New York State. For now, that lower court decision remains binding across the state."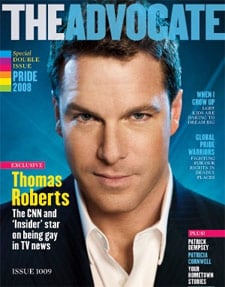 Thomas Roberts talks to The Advocate about the news industry's glass ceiling for gays: "It's funny that people think I got fired from CNN. I left CNN on my accord: I resigned from my contract because of personal reasons. I never dealt with anything but respect and kindness. There's a great misconception. I've worked my ass off, I've been fortunate, and luck doesn't hurt either. If people don't like that I'm gay or that I talk about being gay, I'm sorry. Because that's not my problem."

American Idol's resident stoner Jason Castro has his own hot doll, complete with dreads, and it can be yours.

A-Rod faints as daughter is born.

Have any questions for Chace Crawford?

Filipino Archbishop defends right of gays to participate in Santacruzans: "If they are devotees, they are religious and they look decent, I believe they have the right to join in. I think it would be better for us to see gays who act formally and decently in the Santacruzan rather than young and beautiful women who are not clean and [are] immoral."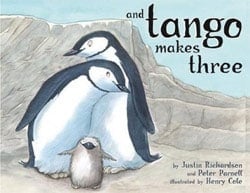 Gay penguin book And Tango Makes Three is "most objected to" library book in America for second year straight: "Other books on the ALA's top 10 list include Maya Angelou's memoir I Know Why the Caged Bird Sings, in which the author writes of being raped as a young girl; Mark Twain's The Adventures of Huckleberry Finn, long attacked for alleged racism; and Philip Pullman's The Golden Compass, an anti-religious work in which a former nun says: 'The Christian religion is a very powerful and convincing mistake.'"

Three teenage girls admit to tagging school and vehicles with racial, vulgar and homophobic messages in Wisconsin.

Moldova hopes to hold its first Gay Pride ever: "Organisers of the Gay Pride in Moldova – 'Rainbow over the Dniester' – are hopeful of being able to stage a parade this year in the country's capital, Chisinau. The Pride is the seventh to be organised, but in previous years the parade has been banned by the authorities. 'During three previous consecutive years, public authorities have banned the public manifestations on various pretexts,' said a spokesperson for GenderDoc-M, the Pride organisers. 'This year after we applied to the City Hall to inform the authorities about planned public manifestation within the Pride, we got the information, which gave us hope.'"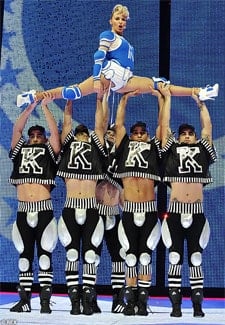 Kylie Minogue show hot out of the gates in Paris.

One benefit to having a fat ass.

Rhode Island lawmakers to debate bills that would allow same-sex couples married elsewhere to divorce in that state: "Lawmakers filed the divorce bill after Rhode Island's Supreme Court ruled in December that a lesbian couple married in Massachusetts cannot divorce in Rhode Island, where they live. Massachusetts is the only state to legalize gay marriage."

Looks like Dick Cheney's gone hunting again.

John Travolta is a subway terrorist.

White House admits it is missing email backups from start of Iraq war: "The White House acknowledged in a court filing last night that it no longer has backup tapes of email from between March 1 and May 22, 2003, a period that includes the beginning of the Iraq war. Yesterday's filing is the latest development in the ongoing White House emails lawsuit, in which two non-profits, Citizens for Responsibility and Ethics in Washington (CREW) and the National Security Archive (NSA), are suing to force the administration to recover any missing emails and institute a more effective email archiving system."