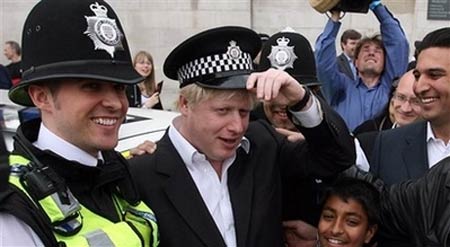 Conservative Boris Johnson beat incumbent Ken Livingstone and former openly gay top cop Brian Paddick to become London's mayor.
The BBC reports: "The Conservative candidate won with 1,168,738 first and second preference votes, compared with Mr Livingstone's 1,028,966 on a record turnout of 45%. He paid tribute to Mr Livingstone and appeared to offer him a possible role in his new administration. Lib Dem Brian Paddick came third and the Greens' Sian Berry came fourth."
Said Livingstone, who had pledged to make London the most gay-friendly city in the world, after his defeat: "There is absolutely nothing that I could have asked from the Labour Party that it didn't throw into this election, from Gordon Brown right the way down to the newest recruit, handing out leaflets on very wet, cold days. I'm sorry I couldn't get an extra few points that would take us to victory and the fault for that is solely my own. You can't be mayor for eight years and then if you don't at third term say it was somebody else's fault. I accept that responsibility and I regret that I couldn't take you to victory."
The BBC reports that former top cop Brian Paddick "paid tribute to Ken Livingstone as 'an amazing mayor' and indicated that he would not be interested in working with Mr Johnson."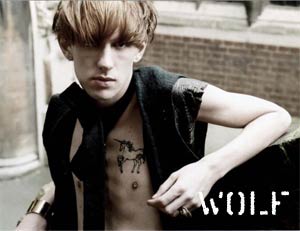 Johnson's election has not made gay Brits happy. The vote was not seen as a response to Livingstone's tenure, but a show of disapproval for Gordon Brown's Labor Party and is, by most accounts, being seen as a forecast of the general elections in the coming years.
Johnson has been an outspoken critic of same-sex marriage. He has also expressed dissatisfaction at the Tory party's attempts to strike positive notes with the nation's gays.
Gays are already expressing their dismay with the choice. Singer Patrick Wolf expresses the frustration many are feeling. He writes, on his blog:
"What in hells name is your policy on the gay and liberal and multi racial culture of london? Tell me, once again, what is your opinion on section 28? And say it once again for the bullied and bruised youth or minority cultures of london? Tell me please.. tell me STRAIGHT what is your opinion on same sex marriage? I will be watching over all your conservative actions. Tooth and nail… I was born here 24 years ago. Ken screwed this city up hard enough in the last 8 years….. now its your turn, this time, we are all watching, and we know your leanings toward right wing attitude… In the name of D Jarman, I will stick by section 28 with a sharp sword outside parliament.. dont fuck with equal rights. Use your new power with any vague wisdom you may possess. The artists and liberators of this city are ready to knock you down. We will and always have overcome."
Johnson's acceptance speech, AFTER THE JUMP…
Johnson wins London mayoral race [bbc]
Gentlemen prefered blondes… [patrick wolf]
Buck Foris [cosmodaddy]