Cayman Islands Director of Tourism Pilar Bush sent a letter of apology to Aaron Chandler, the 23-year-old Massachusetts man I posted about yesterday. Chandler was arrested last Thursday in the Caymans after kissing his partner on a dance floor while vacationing there.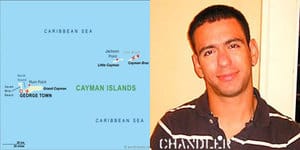 Said Bush in the letter, which Chandler received on Friday: "On behalf of the entire Department of Tourism, I apologise for your upsetting experience and want to assure you that the Cayman Islands is a welcoming jurisdiction to all people. What happened to you was an isolated incident, and is not representative of Cayman. We know that thousands of gay and lesbian visitors travel to the Cayman Islands every year and enjoy their vacation."
Chandler told the Cay Compass that he appreciated the response: "I should say that, yes, her prompt decision did ease the anger for me a bit. In addition, it's just good business sense for Ms Bush to have apologised to me. The [Department] of Tourism surely doesn't want to have someone leave the Cayman Islands not wanting to come back."
Bush had reportedly told Chandler that she would call him at his hotel, but he did not receive the call prior to leaving on Saturday. There has been no word from the Royal Cayman Islands Police, to whom Chandler also complained.
Previously
Cayman Islands Police Arrest Massachusetts Man for Gay Kiss [tr]