Meet Ohio's Sally Kern…GOP Representative Jeff Wagner: "As much as some people would have us to believe otherwise, this country was founded on Christian principles. One of those long honored principles is the tradition of holy matrimony. One man and one woman joined together in a union that goes as far back as Adam and Eve. As our society has gotten further from that standard (not just homosexuality, but easy divorce, cheating on a spouse, etc.) we see a continued collapse of the basic building block of society the family unit. As that traditional family erodes, we see more sexually transmitted diseases, kids without parents, heartbroken people and I believe a host of mental and physical illnesses…"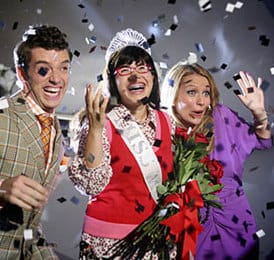 Ugly Betty headed to Broadway?

High-profile Canadian murderer of gay man Jeffrey Lalonde commits suicide in prison.

Batman gets a milk moustache…

Roman Catholic Cardinal Jānis Pujāts calls on Latvian government to declare gay pride marches unlawful, compares gays to drug addicts and alcoholics…

Following last week's eulogy in the NYT, New York magazine weighs in with its final words to meatpacking restaurateur Florent Morellet.

Gay couple receives $15,000 in damages from homophobic teen: "Five years ago, the 17-year-old, who can not be named because he was a juvenile at the time, threw a roll of toilet paper and a firecracker on the couple's lawn. In a related incident, the teen also threatened the couple by saying he would like to 'wreck his fist' on their faces. The boy was arrested, but police never charged him. He was instead asked to apologize to the couple and seek psychiatric help. That didn't satisfy Wouters and Thibault who felt the boy's apology was made only to keep him from being charged in criminal court. They took the case to the rights commission."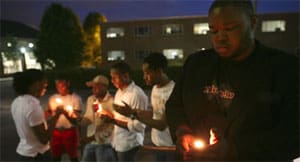 Black, all-male Morehouse College battles homophobia from within: "Brewer, 22, didn't come to Morehouse with the intent of changing it. But he found that he had no choice. He had arrived here from Oklahoma City pretty comfortable with himself: outspoken, proudly smart and, at 5 foot 9 and 300 pounds, hard to miss. Early on, he decided he wouldn't water down his gay identity. And that, historically, has been a problematic strategy at Morehouse. The 141-year-old college has played a key role in defining black manhood in America. But with a past steeped in religion, tradition and machismo, it has struggled to determine how homosexuality fits within that definition."

Texas high school criticized for putting photos of gay couples in the yearbook.

Sex and the City publicity juggernaut achieves orgasm in Manhattan.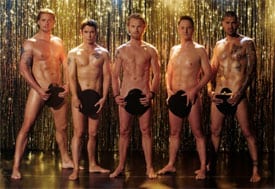 Boyzone performs the Full Monty…

Cyndi Lauper, Charo, and the nephew of Harvey Milk to grand marshall San Francisco gay pride parade.

McCain commercial features woman wearing Barack Obama t-shirt.

Chinese not happy with Sharon Stone's statement that the earthquake was "karma": "That prompted the founder of one of China's biggest cinema chains to say his company would not show her films in his theaters, according to a story in The Hollywood Reporter…Ng See-Yuen, founder of the UME Cineplex chain and the chairman of the Federation of Hong Kong Filmmakers, called Stone's comments 'inappropriate,' adding that actors should not bring personal politics to comments about a natural disaster that has left five million Chinese homeless, according to the Reporter. UME has branches in Beijing, Shanghai, Chongqing, Hangzhou and Guangzhou, China's biggest urban movie markets."