A post at Gawker alleges that Bravo exec Andy Cohen outed ABC weatherman Sam Champion in a blog post about his weekend in the Hamptons.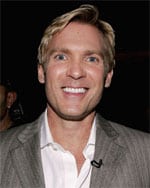 Cohen wrote: "The lunch went until cocktail time and on my way home I stopped by a store opening in East Hampton. Kelly Ripa and Marc Consuelos were the 'hosts' of the party, but the store is owned by Sam Champion's boyfriend. Neither of the Champions seemed to be around for the first 90 minutes of their own party, and so the topic of conversation inside the party became: If you are the host of a party (and not the 'host') and your name is not 'Madonna', is it appropriate to make an 'entrance' or be there from the start? People seemed to be split on the etiquette."
Back in 2005, an article in the Advocate described Champion as openly gay, and though Gawker describes Champion as keeping his sexuality "hushed" somehow I doubt the revelation would spawn even a cloudburst of controversy.
related
A Very Gay New Year's Eve Preview [tr]