Deputy Public Defender William Quest defended his client, 14-year-old Brandon McInerney, who is to be arraigned today for the fatal shooting of his classmate, 15-year-old Lawrence "Larry" King at E.O. Green Junior High School in Oxnard, saying that the school is at fault for not stepping in when it saw conflict between two of its students: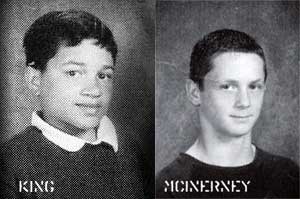 "Educators should have moved aggressively to quell rising tensions between the two boys, which began when King openly flirted with McInerney, said Deputy Public Defender William Quest. Instead, administrators were so intent on nurturing King as he explored his sexuality, allowing him to come to school wearing feminine makeup and accessories, that they downplayed the turmoil that his behavior was causing on campus, Quest said."
The school disagrees:
"School Supt. Jerry Dannenberg strongly disagreed with such allegations. 'School officials definitely were aware of what was going on, and they were dealing with it appropriately,' Dannenberg said Wednesday. King was constitutionally entitled to wear makeup, earrings and high-heeled boots under long-established case law, Dannenberg said."
Ventura County hopes to try McInerney as an adult but a motion has been made to try him as a juvenile. The arraignment may be delayed until the court decides on that motion, according to the L.A. Times. A coalition of gay rights groups has urged District Attorney Greg Totten to try him as a juvenile as well. McInerney has been held in Juvenile Hall since the shooting, in lieu of $700,000 bail.
Lawyer blames school in shooting of gay Oxnard student [la times]