Former University of Toledo associate vice president of human resources Crystal Dixon, who was fired from her job after writing a column for the Toledo Free Press in which she said gays "violate God's divine order," talked to reporters at her church yesterday, and told them she had a divine mandate to write the column.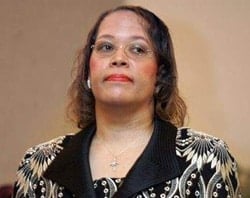 Said Dixon: "Whether you agree with me or not is really not the issue. The real issue is that I, like every citizen in the United States, have a First Amendment right to exercise free speech and to express my religion. I did so as a private citizen and I have been fired by a university that I have loved, served, and supported for many years."
Dixon is suing the university.
Previously
Ohio College Administrator on Paid Leave for Remarks About Gays [tr]
Suspended UT Administrator Crystal Dixon Fired, Will Sue [tr]