In late April, McCain supporter John Hagee appeared to retract his past remarks that gay sin brought Hurricane Katrina upon New Orleans, releasing a statement that said: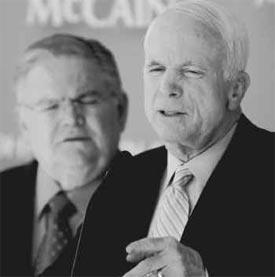 "As a believing Christian, I see the hand of God in everything that happens here on earth, both the blessings and the curses. But ultimately neither I nor any other person can know the mind of God concerning Hurricane Katrina. I should not have suggested otherwise. No matter what the cause of the storm, my heart goes out to all who suffered in this terrible tragedy. There but for the grace of God go any one of us."
Well, that didn't last long. IHagee held a conference call with religious supporters yesterday, the Dallas News reports:
"When a woman on the call asked why he seemed to have backed away from his Katrina comments in face of criticism, Hagee said he hadn't. As for the Katrina, he said, God controls hurricanes and 'God always punishes unconfessed sin.'"
Anyone surprised? Didn't think so.
McCain most recently called the controversy over Hagee's remarks "nonsense."
(via Think Progress)
AFTER THE JUMP, the Hagee video…