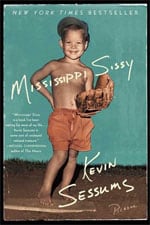 The winners of the Lambda Literary Awards were announced last night.
I just wanted to send out a congrats to our own Kevin Sessums, who took the award for Mens Memoir/ Biography for Mississippi Sissy
. Other winners included Hero
by Perry Moore for LGBT Children's/Young Adult, Henri Cole's Blackbird & Wolf
for poetry, and Call Me By Your Name
by Andre Aciman for Men's Fiction.
I've posted all the winners, AFTER THE JUMP…
LGBT ANTHOLOGIES
* First Person Queer, Richard Labonte and Lawrence Schimel (Arsenal Pulp Press)
LGBT ARTS & CULTURE
* The View From Here, Matthew Hays (Arsenal Pulp Press)
LGBT CHILDRENS/YOUNG ADULT
* Hero, Perry Moore (Hyperion)
LGBT DRAMA/THEATER
* Return to the Caffe Cino, edited by Steve Susoyev and
George Birimisa (Moving Finger Press)
LGBT EROTICA
* Homosex: 60 Years of Gay Erotica, Simon Sheppard (Running Press)
LGBT NONFICTION
* Gay Artists in Modern American Culture, Michael S. Sherry (University of North Carolina Press)
LGBT POETRY
* Blackbird and Wolf, Henri Cole (Farrar, Straus & Giroux)
LGBT SCI-FI/FANTASY/HORROR
* The Dust of Wonderland, Lee Thomas (Alyson Books)
LGBT STUDIES
* Between Women, Sharon Marcus (Princeton University Press)
BISEXUAL
* Split Screen, Brent Hartinger (Harper Collins Children's Books)
TRANSGENDER
* Transparent, Cris Beam (Harcourt)
LESBIAN DEBUT FICTION
* Among Other Things, I've Taken Up Smoking, Aoibheann Sweeney (The Penguin Press)
GAY DEBUT FICTION
* A Push and a Shove, Christopher Kelly (Alyson Books)
jump to top of pge
WOMEN'S FICTION
* The IHOP Papers, Ali Liebegott (Carroll & Graf)
WOMEN'S ROMANCE
* Out of Love, K. G. MacGregor (Bella Books)
WOMEN'S MYSTERY
* Wall of Silence, Gabrielle Goldsby (Bold Strokes Books)
WOMEN'S MEMOIR/BIOGRAPHY
* And Now We Are Going to Have a Party, Nicola Griffith (Payseur & Schmidt)
MEN's FICTION
* Call Me By Your Name, Andre Aciman (Farrar Straus Giroux)
MEN's ROMANCE
* Changing Tides, Michael Thomas Ford (Kensington)
MEN's MYSTERY
* Murder in the Rue Chartres, Greg Herren (Alyson Books)
MEN'S MEMOIR/BIOGRAPHY
* Mississippi Sissy, Kevin Sessums (St. Martin's Press)