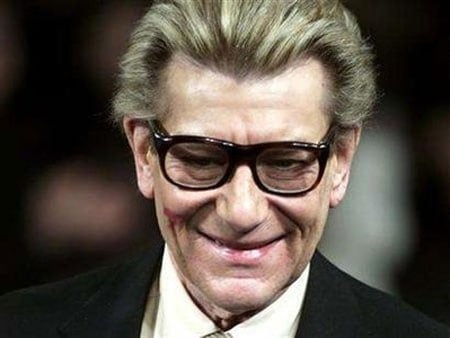 Fashion legend and brilliant master of couture Yves Saint Laurent died at his apartment in Paris on Sunday at the age of 71. Some excerpts from the NYT obit:
* "Mr. Saint Laurent achieved instant fame in 1958 at the age of 21 when he showed his Trapeze collection, his first for Christian Dior following the master's death. But unlike many overnight sensations, Mr. Saint Laurent managed to remain at the top of his profession as fashion changed from an emphasis on formal, custom-made haute couture to casual sportswear."
* "In September 1961, Mr. Saint Laurent announced plans to open his own haute couture house in partnership with his lover, Pierre Bergé (pictured, right, at the announcement of YSL's retirement). Mr. Bergé remained his lifelong business partner and was responsible for the company's financial success, although they split up as a couple in the early 1980s."
* "Among his greatest successes were his Mondrian collection in 1965, based on the Dutch artist's gridlike paintings, and the "rich peasant" collection of 1976, which stirred so much interest that the Paris show was restaged in New York for his American admirers."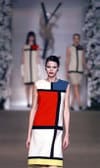 * "By 1983, when he was 47, his work was recognized by fashion scholars as so fundamentally important to women's dress that a retrospective of his designs was held at the Costume Institute of the Metropolitan Museum of Art, the first time the museum had honored a living designer. Diana Vreeland, the legendary magazine editor and the doyenne of the Costume Institute, who masterminded the exhibition, called him "a living genius" and 'the Pied Piper of fashion.'"
* "'Every man needs aesthetic phantoms in order to exist,' Mr. Saint Laurent said at the announcement of his retirement. 'I have known fear and the terrors of solitude. I have known those fair-weather friends we call tranquilizers and drugs. I have known the prison of depression and the confinement of hospital. But one day, I was able to come through all of that, dazzled yet sober.'"
Saint Laurent's cause of death was reportedly a brain tumor. In recent years he had been hospitalized and in 2006 had a public collapse on a Paris street following one of the show's of the fashion house that bore his name.