You may remember this incident from earlier news roundups. Khadijah Farmer, a lesbian who was ejected along with her friends from the Caliente Cab Company restaurant in New York's west village, won a settlement in a gender discrimination lawsuit filed with the state Supreme Court by the Transgender Legal Defense and Education Fund last October: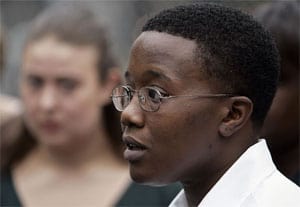 "While she was in the women's bathroom, a male bouncer burst in and told her that she had to leave. Although Ms. Farmer showed him her state nondriver photo identification card, which identified her as a woman, the bouncer insisted that she leave the bathroom, and subsequently her entire group was ejected from the restaurant…While Ms. Farmer has always identified herself as a woman, the defense fund took up the case because it touched upon many issues that transgender people commonly face and could set an interesting legal precedent, representatives of the group said…Among the workplace practices that Caliente Cab agreed to adopt in the settlement was to add gender identity and expression to its corporate nondiscrimination policy; to adopt a gender-neutral dress code for its employees; and to amend its employee handbook to state 'persons patronizing or employed at Caliente have the right to use the bathroom facilities consistent with their gender identity and expression.'"
In addition to the agreement, Farmer will receive $35,000 and the Legal Defense Fund will receive $15,000.
Woman Wins a Settlement Over Her Bathroom Ouster [nyt]